business
Kerry Threatens Tougher Sanctions on 'Grisly' North Korea Regime
Sangwon Yoon and Sam Kim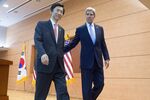 U.S. Secretary of State John Kerry threatened tougher sanctions on North Korea to "ramp up" the pressure on the "grisly" regime of leader Kim Jong Un.
"This is an individual who has said no to every effort" to hold talks on his country's nuclear program, Kerry told reporters Monday in Seoul. "We are more determined than ever to find a way to convince Kim Jong Un and North Korea that all they are doing now is isolating themselves further and creating greater risks for the region and for their country."
North Korea said earlier this month it fired a ballistic missile from a submarine, although U.S. officials have disputed the claim. Kim declined an invitation to attend Russia's May 9 celebrations of victory over Nazi Germany and has rejected overtures from the U.S. and China for talks, resulting in the need for discussions on how to build greater pressure, Kerry said.
China and Russia share U.S. concerns about North Korea's nuclear weapons development, Kerry said at joint briefing with South Korean counterpart, Yun Byung Se.
"The U.S. continues to offer Pyongyang an improved bilateral relationship if and only if and when it demonstrates a genuine willingness to fulfill denuclearization obligations and commitments and when it shows a willingness to address other important concerns shared by the international community," Kerry said.
Purges, Executions
China has refrained from holding a summit with Kim, refusing to strongly back the regime after a series of atomic tests and Kim's move in December 2013 to kill his uncle, Jang Song Thaek. Kim has since purged dozens of high-level officials and may have executed his defense minister Hyon Yong Chol with an anti-aircraft gun, South Korea's National Intelligence Service told lawmakers last week.
"It really ties into this question of the nature of the executions and the behavior of Kim Jong Un," Kerry said, adding that his regime was "one of the most egregious examples of reckless disregard for human rights."
South Korean President Park Geun Hye called Kim's rule an "extreme reign of terror," saying last week that many South Koreans are frightened about uncertainties in North Korea. On Monday, North Korea called her a "viper," blaming her for tensions between the two countries.
"North Korea is reacting violently to Park's remark," said Cheong Seong Chang, a North Korea analyst at the Sejong Institute near Seoul. "Relations between North Korea and South Korea may be as good as over this year."
Six-Party Talks
No high-level meetings between the two countries have taken place since October when a group of advisers to Kim attended the Asian Games in South Korea.
Six-party nuclear talks involving North Korea and South Korea, China, Japan, Russia and the U.S. collapsed in 2009 after the government in Pyongyang walked out in response to United Nations condemnation of a long-range rocket launch.
"We have to have some indication from the leader of North Korea that they are serious about engaging the subject of their nuclear program." Kerry said.
Kerry said Kim may face prosecution by the International Criminal Court for committing human rights abuses that amount to crimes against humanity. Calls for Kim's trial will continue to grow if he keeps violating international law, commitments and obligations, Kerry added.
In December, the United Nations General Assembly adopted a resolution calling for the Security Council to consider referring the North Korean human rights situation to the world tribunal. All five veto powers on the 15-seat council must agree to a referral, a move Russia and China are wary to endorse for sensitive human rights matters.
For more, read this QuickTake: Financial War
Before it's here, it's on the Bloomberg Terminal.
LEARN MORE