pursuits
JCB Billionaire Bamford Says EU Exit Could Benefit UK
James Boxell and Benjamin Katz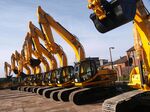 Anthony Bamford, chairman of construction equipment maker JCB Service, said the U.K. could survive "peacefully and sensibly" outside the European Union and would benefit from being able to negotiate as a single country.
The comments from one of the country's most senior industrialists are at odds with the general campaign of support for continued EU membership from the country's business lobby, including the Confederation of British Industry. Closely-held JCB, founded by Bamford's father, is the biggest digger-maker in Europe with sales of 2.51 billion pounds ($3.9 billion) last year.

In an interview with the BBC on Sunday, Bamford said some of the warnings about an exit were overdone. "We are the fifth-or sixth-largest economy in the world. We could exist on our own -- peacefully and sensibly," he said.
Leaving the bloc would allow the U.K. to "negotiate as our country rather than being one of 28 nations," he said.
Prime Minister David Cameron has promised an "in-out" referendum on EU membership by the end of 2017, although some business leaders want one sooner to avoid uncertainty. Bank of England governor Mark Carney called last week for the government to act with "appropriate speed" on the vote.
The CBI has asked its members to campaign for Britain to remain within a "reformed EU," with Cameron preparing for tough negotiations with European partners over issues such as migrant worker rights.
In response to Bamford's comments, Peter Rogers, chief executive of support services provider Babcock International Group Plc, said in a phone interview Monday that only companies "with limited product ranges and limited ambition" would prosper outside the EU.
(Updates with Babcock quote in final paragraph.)
Before it's here, it's on the Bloomberg Terminal.
LEARN MORE