politics
In Philadelphia, Rand Paul Talks Privatized Amtrak and Criminal Justice
The city's vote has kept the state firmly Democratic in presidential elections; the senator says he can change that.
By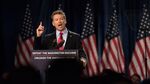 One day before Philadelphia's Democratic primary for mayor, an event usually tantamount to election, Kentucky Senator Rand Paul told an audience at the city's National Constitution Center that his brand of Republicanism could make urban politics competitive again.
"If I am the nominee, we will compete in Philadelphia," Paul told radio host Dom Giordano. "I'll ask Hillary Clinton, what have you done for criminal justice ... I'd ask her, what's your plan to help poor people in Philadelphia?"
Philadelphia has not elected a Republican to the mayor's office since 1951; no Republican candidate has come particularly close to the top job since the near-miss 1999 run of businessman Sam Katz. The city's strong Democratic vote has kept Pennsylvania in the Democrats' Electoral College–in 2012, the Obama-Biden ticket's 492,339 margin out of the city overwhelmed a Romney-Ryan edge from the rest of the state.
Paul, who spoke first in what the National Constitution Center hopes to be a series of candidate events, tried to front the issues where he could run to Hillary Clinton's left. (The crowd, which frequently interrupted Paul with applause, included more than a dozen college-aged volunteers wearing shorts and campaign T-shirts.) He retold the story of Christos Sourovelis, a Philadelphian whose home was briefly seized in a drug raid that targeted his son, and who subsequently found legal representation from the libertarian Institute for Justice. 
"A lot of us don't understand it, but a lot of people who are poor live on the edge," said Paul, describing visits to urban centers that had been "decimated" by over-incarceration. He walked through the scenario of a poor man with $2,000 to his name being shaken down by police over contraband they'd claimed to have found on him. "The government will sometimes say to the people in the car, we'll let you keep a thousand," Paul said. "They negotiate on the side of the road."
In a Q&A that included suggestions from the crowd, Paul tried to focus on libertarian-liberal synergy more than traditional conservative politics. He quickly dispatched a question about abortion rights, saying laws should be left to the states, averring that he "didn't run for office because of this issue." (One of Paul's first acts as a newly elected senator, in 2011, was the introduction of an amendment that would have defined personhood as starting at conception.) But he talked more about police militarization that he had in some time.
"I see no reason to have a 20-ton, mine-resistant, ambush-protection vehicle in the streets of any country," Paul said. "We've found that a third of this military surplus is brand new... is this some kind of churning? It's not a great idea to show up everywhere with a grand military presence, like an army."
Paul also went long on fiscal policy, saying that Amtrak would be better off in private hands. "You would think after having commercial railroads for over 100 years, we could do a better job than that," he said, referring to last week's derailment just miles north of Philadelphia.
"They've lost money every year they've been existent. I'm looking at the easement and thinking, 'Man, we should sell that.' [Imagine] if we could sell that and let a real company put up a fast train."
Before it's here, it's on the Bloomberg Terminal.
LEARN MORE