business
Bubble Blowing to Continue So Long as Yellen Isn't Raising Rates
Simon Kennedy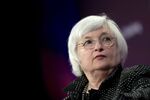 Janet Yellen will have to do more than talk about potential asset market bubbles if she is to pop any.
Days after Federal Reserve Chair Yellen's May 6 observation that stock valuations are "quite high," Citigroup Inc. strategists led by Robert Buckland looked around the world at what central banks have done in the past to rein in financial market excesses.
Their answer is that it usually takes at least three interest rate increases and as many as five to spark a slide in equities. With such a development unlikely for another year in their opinion, they're betting stocks will keep climbing despite any concerns Yellen may voice.
"The lesson seems to be that bubbles can continue inflating through the first rate increases," Buckland and colleagues said in a May 14 report. "Rate hikes eventually burst bubbles, but it usually takes at least three increases to stop the juggernaut."
Looking at Japan first, the strategists noted that in the late 1980s, the Bank of Japan kept interest rates low as inflation was subdued. Yet as prices picked up it began tightening in March 1989. Starting from 2.5 percent, rates reached 4.25 percent before the stock market peaked in December 1989.
It also took time to burst the U.S. Internet bubble of the last decade. The Fed first lifted its benchmark in May 1999 but it took five increases to 6 percent before the Nasdaq Composite Index topped out.
Bull Market
As for emerging market excesses, the Fed raised its key rate to 5.25 percent in June 2006. Even so, developing nation equities didn't deflate for another 18 months.
With central banks unlikely to turn aggressive so long as inflation remains as low as now, Citigroup's economists don't see the potential bubble-bursting third rate increase in the U.S. until the third quarter of next year. Even then, rates adjusted for inflation will still be negative.
And even at that point there will be plenty of support for equities from elsewhere given the European Central Bank is set to keep buying bonds until at least September 2016.
There is also a way to go for borrowing costs to reach their historical highs. Citigroup's measure of the global interest rate suggests the average price of short-term money is now just 0.7 percent, the lowest level in four decades.
"It's still too early to fight this bull market," said Buckland's team.
(For more Economy Line insights, see NI ECOLINE.)
Before it's here, it's on the Bloomberg Terminal.
LEARN MORE