Now It's Argentina's Turn to Be the Debt Bully
Pablo Gonzalez and Michael Smith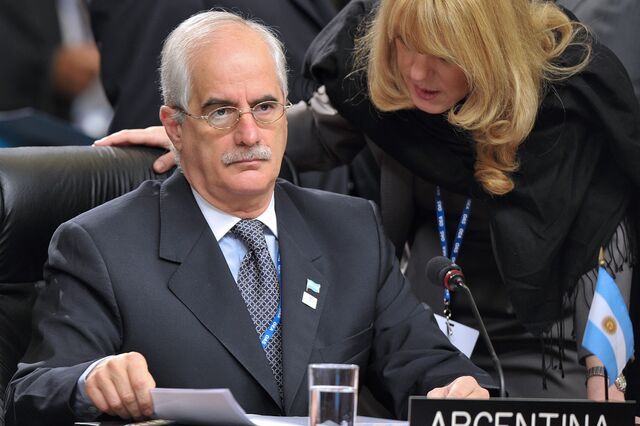 Argentina's left-leaning leaders have spent a decade vilifying investors who refuse to take massive losses on defaulted government bonds. Yet they have been similarly unforgiving toward the debt of a socialist ally: Cuba.
One result is that Argentina might find it hard to get in on any boom in foreign investment in Cuba if the U.S. proceeds with its push to restore diplomatic relations with the government and lifts a half-century-old embargo.
The debt goes back decades but the friction dates to 2006. By then, Cuba had long since been set adrift by the Soviet Union, its now dissolved protector, and was drowning financially. So it asked then Argentine President Nestor Kirchner to slash the debt it had taken on to fund car shipments dating to 1973.
The original $2.4 billion of debt had more than tripled. The Cubans pleaded for indulgence, according to Jorge Taiana, who was foreign minister at the time. Taiana, speaking publicly about these events for the first time, said the Cubans had asked for a 75 percent reduction and wanted "to pay us back with pills and other medicine."
Taiana, who is today a Buenos Aires state legislator, was in favor but added, "Unfortunately the offer was rejected."
Little has changed in the intervening years and the debt has likely risen to more than $11 billion, according to Orlando Ferreres, who runs Ferreres & Asociados, a consulting firm. Argentina is also demanding its small northern neighbor Paraguay repay an $18 billion debt stemming from funds it contributed to build a hydroelectric dam in 1983. The size of the debt has ballooned over the years from an initial $6 billion, according to ABC, a leading newspaper in the country.
Putin's Writedown
The whiff of hypocrisy grew a bit stronger in the Cuba case last July after Russian President Vladimir Putin agreed to write off 90 percent -- almost $32 billion -- of the Caribbean island's Soviet-era debt. President Cristina Fernandez, Kirchner's widow, went so far as to publicly praise the gesture as one "worth imitating."
Fernandez didn't stop there. She urged Argentina's biggest investor, billionaire Paul Singer, to take the same forbearing position toward Argentina. Singer leads a group of investors who've refused Argentina's offer to repay 25 percent of its $95 billion of debt from a 2001 default. Government officials have not been hesitant to label Singer a "vulture."
Taiana said he doesn't remember why Cuba's request was rejected in 2006. Roberto Mori, a former foreign ministry official, said it would have required congressional approval which Kirchner was uncertain of obtaining. Mori added that in recent years the only debt pardoned by Argentina was Bolivia's in 1989. The debt with Cuba adding accrued interest is closer to $8 billion today, he said.
Paraguay's Anger
The Cuba debt records aren't public and are managed by the executive branch, according to an Argentine central bank official who asked not to be identified in accordance with internal policy. Alfredo Scoccimarro, a spokesman for the president, didn't reply to an e-mail and phone call seeking comment.
Telephone messages and e-mails to Cuba's embassy in Buenos Aires, the Cuban Interests section in Washington and its UN mission in New York weren't returned.
For now, trade between the two countries is limited, amounting to just $350 million in all of last year, according to data compiled by Bloomberg.
Ferreres lamented that he was unable to get the figures from the Central Bank and that such secrecy harms Argentina as Cuba starts becoming a focus of investment. He noted that Argentina not only cut Bolivia's debt by 90 percent but took the rest in natural gas.
Taiana agreed, saying, "Businessmen dealing with Cuba can't get credit lines because the island is on the Argentine central bank's black list of borrowers that are in default."
Across the border in Paraguay, anger flashes periodically about the $18 billion debt. ABC, the local newspaper, uses a familiar term to describe the Argentine government: vulture.
Before it's here, it's on the Bloomberg Terminal.
LEARN MORE