Iowa Food Fight: Republican Hopefuls Size Up Clinton—and Each Other
Obama critiques, foreign policy, and lots of calories on the menu as Republican presidential hopefuls audition in Des Moines.
By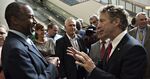 The wooing of voters got personal—and highly caloric—one floor below the main hall as Iowa Republican activists spilled out of Saturday's annual Lincoln Dinner in Des Moines. As if the beef tenderloin, mashed potatoes and vegetables weren't enough, some of the evening's speakers manned booths to offer post-dinner temptations. 
Wearing a red apron labeled with his "Go Big, Go Bold" call to action, Wisconsin Governor Scott Walker served cheddar cheese and Miller beer as he stood near a Harley Davidson motorcycle, all from his home state.
Former Texas Governor Rick Perry offered ice cream sundaes, while former Florida Governor Jeb Bush served meatballs and chips and salsa.
While none of them are officially running (yet) for their party's presidential nomination, the three Republicans were among those hosting receptions for the political activists most likely to vote in the Iowa caucuses, the nominating contest that in less than nine months will start the race to the White House. All posed for photos, while staff members sought to collect data on those passing through their lines. 
The one-on-one courting took place after 11 declared or likely presidential candidates delivered speeches at an event that attracted about 1,300 to a downtown convention center.
The dinner was the fourth major, multi-candidate event so far this year in Iowa. The audience, however, reflected a broader cross-section of Republicans than those at the earlier events. That offered a more hospitable environment for Bush, who is viewed skeptically by some social conservatives.
Proud of W
"Some of you may know that W's my brother. I'm proud of that, too," Bush said to modest applause.
The former governor kept his focus primarily on President Barack Obama and Hillary Clinton. "Name a country where the relationship is better than the day that Barack Obama came into office?" Bush asked. "Iran. Cuba. I rest my case."
Bush, making only his second visit to Iowa since October 2012, didn't touch on his decision not to compete in August's Iowa Straw Poll, a carnival-like event that serves as a party fundraiser and sometimes winnows the field.
Speakers at the dinner were strictly limited to 10 minutes each. If they went over their time, the microphone was cut off and music was played.
"When I was governor of the 13th largest-economy in the world, we were a great example of what you can do when you free people from over-taxation, over-regulation, over-litigation," Perry said.

Ahead of his speech, Walker dug into his family's photo archives to come up with a first-class pander to Iowans. Loaded into the room's projectors as he started his speech was a mid-1970s photo of him as a child holding a large state flag with his brother when they lived in Plainfield, Iowa.
Walker explained that the town's city hall didn't have a state flag and he went around with his brother and a "washed out mayonnaise jar" to raise money for one. "My mother, 40 years later, still has that flag," he said.
Senator Rand Paul of Kentucky was alone in showing a willingness to directly confront one of his fellow Republicans eying the White House. He took aim at Bush, without using his potential rival's name.
"The question was asked of one of our candidates this week, was the Iraq War a mistake?" Paul said. "Would you do it again? It's a valid question."

It was a reference to Bush being asked about the decision his brother, former President George W. Bush, made to invade Iraq. Earlier Saturday, Paul had made fun of Bush for "fumbling around" and dismissing such questions as "hypothetical." At the dinner, Paul toned down the mockery, but kept the message.
"We have the question: Is Iraq more stable or less stable after Saddam?" Paul asked. He proposed that every Republican be asked whether the ouster of the Iraqi dictator contributed to a less stable Middle East and the rise of ISIS, but quickly pivoted. "The same question that was asked of Republicans needs to be asked of Hillary Clinton—if she ever takes any questions," he said to applause.
From there, Paul launched into a familiar roasting of former secretary of state's performance before and during the September 2012 attack on the American consulate in Benghazi, saying it "should forever preclude her from holding higher office."

Senator Lindsey Graham of South Carolina defended President Bush's actions in Iraq, while showcasing his own experience with foreign policy and military affairs. "If you're a radical Islamist, you've come to the wrong meeting," he said. "Nobody here likes you. If you like God you are in the right place."
Carly Fiorina, the former Hewlett-Packard CEO, echoed Sarah Palin with a twist. She said over-regulation has created an insider culture that benefits the corporate elite. "Crony capitalism is alive and well because only the big, the powerful, the wealthy and well connected can handle a government that is so costly and so complex," she said.
Louisiana Governor Bobby Jindal received a less boisterous response that he did April 25 when he appeared before an audience friendlier to him at an event sponsored by the Iowa Faith & Freedom Coalition.

"In Louisiana, like in Iowa, we've got plenty of guns and religion and Mr. President we're not giving up either one of those just because you don't like it," he said.
Retired neurosurgeon Ben Carson challenged the notion that race played a role in the violent that recently erupted in Baltimore following the death of a black man who suffered injuries in police custody.
"I don't think it was a racial issue," he said. "I mean the mayor is black, the police commissioner is black, most of the police force is black."
Instead, Carson directed the blame toward the Obama administration.
"It has more to do with the fact that in so many of our inner cities, there has been a lot of change, but very little hope," he said. "People are very frustrated and it's very easy to manipulate people like that into doing things that are not in their own best interest."
Carson also questioned whether the nation's nuclear arsenal is ready for action, if it were needed. "I'm not sure those doors will open when you push the button," he said.
"Bomb them"
Former Senator Rick Santorum of Pennsylvania, who won the 2012 Iowa Republican caucuses, sold his national security experience.
"Iran, enemy. Israel, friend," he said in a line directed at Obama. "It's real simple."
He called for the U.S. and its allies to target the Islamic State and "bomb them back to the 7th Century."

Former New York Governor George Pataki promised to cut the federal workforce by 15 percent, to scrap and rewrite the tax code and impose a lifetime ban on members of Congress serving as lobbyists.
Vowing to keep jobs in the country and undocumented immigrants out, billionaire Donald Trump hinted that he's about to make the Republican field more crowded. "In June, I'm going to be making an announcement," he said. "I cannot take the political nonsense any longer."
(David Weigel and Kathy Kiely in Washington contributed to this report.)