Iowa Food Fight: Republican Hopefuls Size Up Clinton—and Each Other
Obama critiques, foreign policy, and lots of calories on the menu as Republican presidential hopefuls audition in Des Moines.
By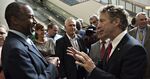 The wooing of voters got personal—and highly caloric—one floor below the main hall as Iowa Republican activists spilled out of Saturday's annual Lincoln Dinner in Des Moines. As if the beef tenderloin, mashed potatoes and vegetables weren't enough, some of the evening's speakers manned booths to offer post-dinner temptations.