S&P 500 Index Closes at Record After Drop in Consumer Confidence
Callie Bost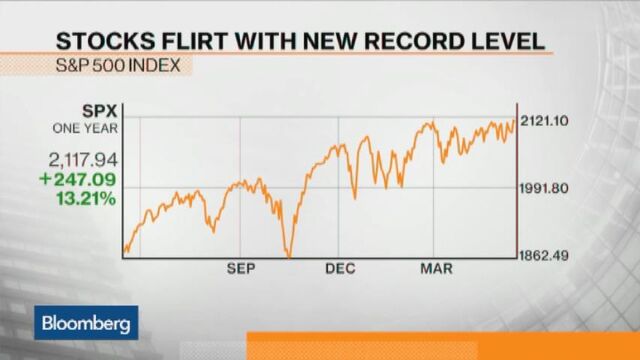 The Standard & Poor's 500 Index closed at a record for a second straight day, as investors speculated the Federal Reserve would continue to support economic growth after data showed an unexpected drop in consumer confidence and weak factory output.
Netflix Inc. added 4.5 percent after people familiar with the matter said the company is in partnership talks with a Chinese media firm. Pepco Holdings Inc. and Exelon Corp. surged after Maryland regulators approved their merger. Keurig Green Mountain Inc. lost 8.6 percent, and bank shares capped their biggest retreat in a month.
The S&P 500 rose 0.1 percent to 2,122.70 at 4 p.m. in New York. The gauge added 0.3 percent this week for its first back-to-back weekly gain in more than a month. The Dow Jones Industrial Average climbed 20.32 points, or 0.1 percent, to 18,272.56. About 5.7 billion shares traded hands Friday, 11 percent below the three-month average.
"The data plays into the renewed concern that economy in the second quarter will move at a glacial place, renewing hope that the Fed won't move aggressively in 2015," said Chad Morganlander, a money manager at Stifel, Nicolaus & Co., which oversees about $170 billion. "The market is listless today and you had a big move yesterday that took everybody by surprise on the back of economic data."
Consumer confidence unexpectedly fell in May by the most in more than two years, as the University of Michigan preliminary index of sentiment dropped to the lowest since October.
Factory Data
A separate report showed factory production stalled in April, following a 0.3 percent March gain that was larger than previously estimated. The data add to previous reports that suggest economic growth isn't strong enough to warrant higher interest rates.
A report Thursday showed wholesale prices unexpectedly declined in April, indicating inflation is well-contained as Fed officials weigh when to raise the benchmark rate. Concern the Fed would raise interest rates even with worsening economic data and predictions for earnings declines have whipsawed stocks between gains and losses in the previous five weeks.
Signs that the global bond market selloff has run its course and the dollar's retreat yesterday spurred gains in multinational companies, helping the S&P 500 erase declines earlier in the week and close at a new high. The weaker dollar lessens the drag on the economy and corporate profits as it makes exports more competitive.
Earnings Results
With the earnings season drawing to a close, S&P 500 members are now on track to deliver income growth of 0.4 percent in the first quarter, compared with projections for a 5.8 percent decline as recently as March. Out of 460 S&P 500 companies that have reported earnings, 72 percent have beaten earnings expectations, while 47 percent have exceeded sales estimates.
The Chicago Board Options Exchange Volatility Index fell 2.8 percent to 12.38, after sliding 7.4 percent Thursday. The gauge fell 3.7 percent in the week, its first drop for the gauge, known as the VIX, in three.
Seven of the S&P 500's 10 main groups were higher, with utilities and consumer discretionary companies gaining the most while financial and technology shares led declines.
Netflix rose 4.5 percent to an all-time high, bolstering gains in consumer discretionary shares. People familiar with the matter said it's in talks with a Chinese media company backed by Jack Ma and other possible partners as it seeks entry into the country's $5.9 billion online video market.
Bed Bath & Beyond Inc. jumped 5.3 percent, its biggest gain since September, after Leonard Green & Partners LP reported a new stake in the retailer.
Transports Rally
Transportation stocks in the S&P 500 advanced, as United Parcel Service Inc. climbed 1.7 percent after Goldman Sachs Group Inc. upgraded its share recommendation to buy from hold. Railroads CSX Corp. and Union Pacific Corp. each increased 1.7 percent.
The Dow Jones Transportation Average gained 1 percent as Avis Budget Group Inc. jumped 10 percent, the most since May 2012, after competitor Hertz Global Holdings Inc. said it's raising prices in expectation of a busy summer travel season. Hertz added 5.3 percent.
Yum! Brands Inc. gained 4.4 percent to $93.96, a record, after JPMorgan Chase & Co. analyst John Ivankoe raised his rating on the shares to overweight from neutral.
Pepco Holdings rallied 5.2 percent, the most in a year, and Exelon rose 2.9 percent to lead utilities higher after the Maryland Public Service Commission approved Exelon's $6.8 billion buyout of Pepco.
Financial shares in the S&P 500 dropped 0.4 percent as yields on 10-year U.S. Treasuries slid the most in six weeks on economic data. Traders are viewing softer-than-projected economic gauges as a challenge to any Fed interest-rate increase this year.
Banks Fall
The group has rallied as much as 2.6 percent this month as 10-year note yields climbed for three straight weeks. Charles Schwab Corp. and E*Trade Financial Corp. slipped more than 2 percent. Regions Financial Corp. fell 1.8 percent, the most in a month, while SunTrust Banks Inc. dropped 1.5 percent.
Symantec Corp.'s 5.5 percent retreat weighed on the technology group after the the security software maker issued profit and revenue forecasts short of analysts' predictions. Microsoft Corp. and Facebook Inc. gave back some of Thursday's gains, each losing 1 percent.
Keurig Green Mountain declined 8.6 percent after the company said its new cold brewing system won't be available in all its retail outlets until next year, a slower schedule than investors had expected.
Deere & Co. dropped 3.3 percent, the most since October, after JPMorgan Chase & Co. analyst Ann Duignan cut the stock to underweight, the equivalent of a sell rating, from neutral.