business
New York Times CEO: We're Not Betting the Farm on Facebook
There have been dire predictions on the Times's deal to host articles, but Mark Thompson asserts it will be a learning experience
By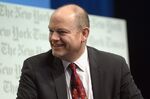 Mark Thompson, the chief executive officer of the New York Times Co., isn't impressed with a lot of the instant analysis of Facebook's new "Instant Articles" format. 
On May 13, the Times confirmed previous reports that it would be one of a handful of publishers participating in a new content-distribution program on Facebook in which the social media giant will begin hosting articles directly in its mobile iOS app. The revelation has inspired much hand wringing in the journalism industry over concerns that in pursuit of short-term benefits (faster loading stories on Facebook, better design, more sharing, increased mobile ad revenue), publishers will be ceding too much control to Facebook, a powerful and often capricious competitor.
Thompson says that much of the dire analysis is overblown. "When Google News launched, I remember being reliably informed by a number of commentators that it was the end of any hope that you'd ever have of anybody coming to your own digital assets," says Thompson. "I regret to say this, but occasionally digital commentators slightly exaggerate things."
In reality, Thompson says, the Times is hardly betting the farm on Facebook. Don't expect Facebook to begin embedding mass numbers of Times articles soon. On the first day of the partnership, Facebook published a single Instant Article from the Times.  "If you say, are there theoretical risks, which have received an extremely wide airing in recent weeks, of course there are," says Thompson. "You do it in a judicious way, and you learn as you go."
Thompson says the decision to participate in the pilot program is indicative of a broader strategy, spelled out in the Times's Innovation Report last year, that encourages experimentation and iteration with new, emerging distribution models. The Times company already has what Thompson calls "off platform" arrangements with a handful of other companies, including YouTube and Flipboard. The belief at the Times, says Thompson, is that you learn more by participating in experiments such as Facebook Instant Articles than you do by sitting them out.
"We think of it not as a replacement for our significant core, on-platform audience but as a way of accessing new pools of readers," says Thompson. "It's a way of engaging with them and drawing them in to sample and hopefully become hooked on Times' journalism."
Like many news organizations, the Times has struggled to turn its rapidly growing mobile audience into significant revenue. Currently, mobile sales make up just 10 percent of the Times's overall digital ad revenue. And recently, the Times gave up on charging $8 a month  for its mobile news app, NYT Now, making it free in the hope of attracting more users and, ultimately, more ad revenue. 
Thompson says participating in Facebook Instant Articles won't change the company's broader strategy for its mobile apps. "The fact that we have a YouTube channel doesn't mean we don't host our own video on our own digital assets," says Thompson. "We do both at the same time. You'll see plenty of iteration and experimentation inside the Times digital assets, which remain by far the most important part of our digital offerings." 
In theory, Facebook Instant Articles should help the Times generate more mobile ad revenue. Last year, Facebook sold $7.4 billion in mobile ads. As part of the initial terms of the program, publishers will get to keep 100 percent of the revenue generated from Instant Articles if they sell the ads themselves or 70 percent if they choose to have Facebook sell the ads for them.  Thompson says that the Instant Articles format will be a place for the Times to experiment with ad types. 
According to ReCode, BuzzFeed is planning to upload the kind of sponsored content that is central to its business model directly into the Instant Articles format. Likewise, Thompson expects that the Times will try embedding its own form of native advertising, often called paid posts, into Facebook Instant Articles in addition to more traditional display advertising. "I expect to experiment and explore with as broad a range of advertising content as we can to find out what works and what doesn't work," says Thompson. 
During the company's quarterly earning call in late April, Times executives touted the company's 957,000 paid digital subscribers, which increased 47,000 over the previous three months. Thompson believes the deal with Facebook won't undercut that growth. If anything, the increased exposure on Facebook, he believes, will help bring in new paying subscribers. "Keeping that digital subscriber growth absolutely depends on reaching out progressively to new audiences," says Thompson. 
Ken Doctor, the president of Newsonomics, says that organizations like the Times can mitigate the risk of letting Facebook host their articles by collecting and closely analyzing incoming data about who is consuming the distributed-content on Facebook and how they overlap with an organization's existing audience. From the get-go, Facebook will be sharing data and analytics from Instant Articles with its publishing partners. "It's only manageable if you have data intelligence flowing into your business," says Doctor. "If you don't, of course you're going to be afraid, because you're acting on ignorance. And you'll be thinking, 'those smart guys in Palo Alto are going to take us for a ride, and I just don't know how.'"
Thompson says that due to Facebook's size, it's easy to overestimate how much impact this deal will actually have on the New York Times Co. "We got more questions in our earnings call about this than we got about our entire print business," says Thompson. "I think it's more about curiosity than it is about fundamental economic significance." 
Before it's here, it's on the Bloomberg Terminal.
LEARN MORE