politics
Martin O'Malley Tells Supporters He's Inclined to Run For President
He held a call with longtime allies on Thursday evening ahead of a May 30 announcement.
By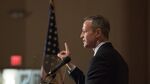 Martin O'Malley inched one step closer to mounting a long-shot presidential bid on Thursday night, telling supporters, friends, and former staff by phone that he's leaning toward running for the Democratic nomination.
He said he was inclined to run for the White House and would need support, said a person who was on the call and was not authorized to speak for O'Malley's potential campaign.
As Bloomberg and others have reported, O'Malley told his backers that he intends to make an announcement on May 30 in Baltimore, the city where he served as mayor for seven years.
If he does decide to make the race, O'Malley, a former two-term governor of Maryland, would be the second candidate running to the left of Hillary Clinton, who is dominating in Democratic polls. The other is Senator Bernie Sanders of Vermont, who launched his campaign last month.
O'Malley spoke of the economic challenges facing the country and touted his intent to bring new leadership, progressive values, and a record of getting results, said the person on the Thursday call.
Before it's here, it's on the Bloomberg Terminal.
LEARN MORE