Jeb Bush Asks Republicans to Consider the Economic Record
At Republican meeting in Arizona, Bush sells his experience.
By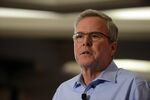 Republican Jeb Bush is attempting to draw a stark contrast between the economic boom he presided over as Florida's governor a decade ago, and the slower, more anemic U.S. recovery under President Barack Obama.
It's a comparison that may help separate him from his family, and the rest of the GOP field.
"There are a lot of people that can talk about this," Bush said Thursday during his keynote speech to the Republican National Committee spring meeting in Tempe, Arizona. "There are very few people actually in public life—particularly in Washington, D.C., particularly this president and his team—that have any clue about how this works."
By emphasizing his record, Bush is trying to show Republican voters more lines on his resume, aside from being the son and brother of former presidents. It's also a way to counter younger Republican presidential contenders—such as those running as first-term U.S. senators—who would offer the party fresh faces, but less experience.

Florida's economic health improved almost 41 percent—better than 44 other states—while Bush was governor from 1999 through 2006, according to the Bloomberg Economic Evaluation of the States. The index measures, among other things, home prices, mortgage delinquency, job growth and personal income. The economic health of all 50 states improved during that time, led in part by rising home prices.
During the past six years, however, the economic health of states has improved for just eight, including Florida.

Bush has been putting more focus on this contrast during recent public appearances, but the subtle change in his stump speech has been largely overshadowed by his struggle to answer a question about the 2003 invasion of Iraq authorized by his brother, then-President George W. Bush. Bush told a group of business leaders earlier Thursday that he wouldn't have authorized the invasion, had he known the intelligence was faulty.
At the RNC meeting, Bush didn't directly mention the incident, instead telling the audience that he is "going to get beyond being George W.'s brother."
"I'm not going to out of my way to say that my brother did this wrong, or my dad did this wrong," Bush said to applause from the crowd of about 300. "It's just not going to happen. I have a hard time with that. I love my family a lot."
Bush had no problem disparaging the the current administration.
He criticized the Obama administration for approving $1.6 trillion in tax increases, while he cut taxes $19 billion in Florida. "And, by the way," Bush said, "we don't have an income tax to cut."
Bush bemoaned a near doubling of the national debt in the last six years, now totaling about $18 billion. Florida's budget reserves, he pointed out, went from $2 billion to $10 billion while he was governor. 
The state's bond rating improved, while Standard & Poor's downgraded U.S.'s rating for the first time in 2011, Bush said. He contrasted the "most tepid economic growth we've ever had in modern history" under Obama, to a Florida growth rate of about 4 percent while he was governor.
He criticized the Obama administration for an "impulse" to create rules, new taxes and "complications."
"I believe the exact opposite should be the way we go, and I've done it," Bush said, adding that he wanted to "just unleash the American animal spirits in this county."
Bush's speech received a standing ovation from the party leaders gathered at a ballroom at The Phoenician hotel, where he spent more than four hours Thursday afternoon meeting with RNC members in what his team referred to as "office hours." The strategy of meeting for 30 minutes with about a dozen Republicans at a time was mostly well received.
While some Republicans privately said that Bush appeared defensive while answering some questions, most praised the former governor for showing he's willing to listen.
"Anyone who wanted to ask him a question certainly had the opportunity," said Henry Barbour, an RNC committeeman from Mississippi who is backing Texas Governor Rick Perry for president. "It smart politics. Most RNC members have not picked a horse in this race."