As Obama Visits New Jersey, Christie on Road in New Hampshire
Elise Young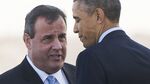 President Barack Obama's scheduled visit to New Jersey next week, aimed at highlighting the regional police force that has reduced crime in Camden, will be missing the governor who loves to tout that city's progress.
"Honored to welcome Pres. Barack Obama to Camden next Monday, where he will visit our community and officers," read a post on the Camden County police Twitter account.
However Chris Christie, a second-term Republican, will be in Portsmouth, New Hampshire, to give a foreign-policy speech, according to an advisory from the political-action committee that's financially supporting his possible run for president in 2016. He'll conduct a town-hall meeting that night in Hudson.
The president's trip to Camden will let him "see the progress being made under new community policing efforts and bipartisan reforms put in place by Christie" and city officials, Kevin Roberts, a spokesman for the governor, said in an e-mail.
The governor has visited New Hampshire, an early primary state, five times in five months as he tries to salvage a potential candidacy. His absence underscores a change in attitude toward the Democratic president he may try to succeed.
In 2012, Christie embraced Obama when the president arrived to tour Hurricane Sandy disaster areas and praised his assistance. That gave the president a pre-election boost as he was being challenged by Republican nominee Mitt Romney. The governor, in turn, was criticized by Republicans for complimenting Obama.
During a May 12 speech in New Hampshire, however, Christie called Obama "the worst economic president since Jimmy Carter" and criticized his "anti-growth policies."
Roberts said that the president will witness a shining example of Christie's competence.
"It's important to remember that this work has been underway for years in order to turn around what was once termed the most dangerous city in America," Roberts said. "The governor has spoken forcefully about this approach as a model for cities across the country, because it's worked."