At Ziferblat, It's Pay by the Minute
A Moscow pay-by-the-minute cafe wins a following abroad
By and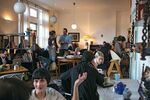 With its cheery polka-dot wallpaper, wooden floors, and assemblage of mismatched tables and chairs, the Ziferblat cafe in the trendy London suburb of Shoreditch could pass for any bohemian coffeehouse. The clocks, however, are a clue to the shop's unique business model: They're everywhere, jostling for space on a mantelpiece, parked alongside laptops on tables. Ziferblat means clock-face in Russian and German, a fitting name for an establishment where the coffee, tea, and cookies are free, but patrons pay by the minute to linger.
The first Ziferblat cafe opened in Moscow five years ago. Today there are 13 in Russia, Slovenia, the U.K., and Ukraine. A Prague outpost will open this summer, and more are planned in British cities. Founder Ivan Mitin, a 30-year-old Russian with a well-tended handlebar mustache, has ambitions to take his metered cafe concept global. "This project will be really successful everywhere," he says during an interview at the original Ziferblat in Moscow.
Mitin's career as an entrepreneur began in 2010, when he set up a venue in Moscow for people to hang out and stage poetry readings and art exhibitions, asking friends and acquaintances for voluntary donations. A year later, he switched from pay-what-you-can to pay-as-you-go so he could afford the rent on a new location. The community spirit appears to have survived the transition: A few months ago, regulars raised 50,000 rubles (about $1,000) to buy the Moscow cafe a new piano.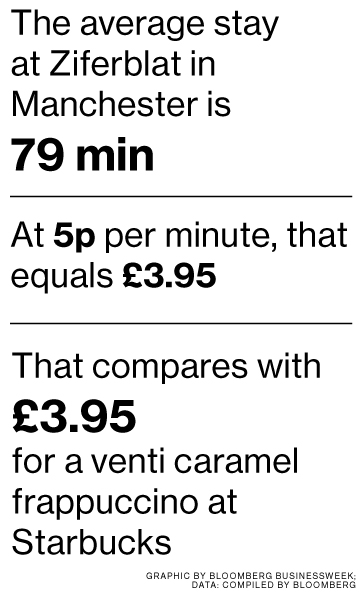 The Ziferblat in London, which opened in 2013, welcomes students, freelancers, techies—and dogs. Just as in Moscow, the staff clocks patrons' arrival and exit on a time sheet. Visitors are expected to wash the cups and dishes they've used at a communal sink. On an evening in May, a nongovernmental organization for transgender people holds a meeting in one corner while a book club is gathering in the other. Jesse Navaranjan has traveled half an hour from where she works, near London's King's Cross station, to show off the place to her girlfriend. "Everyone seems quite friendly," says Navaranjan, 22, for whom the cafe has become a refuge from the home she shares with her parents. "People actually talk to you."
The success of Ziferblat's expansion abroad may rest on Mitin's ability to lure deep-pocketed partners such as Colin Shenton, a real estate investor in Manchester who manages a portfolio of about £200 million ($315 million). Shenton acquired franchise rights for the U.K. and Ireland last year for an undisclosed sum and plans to open seven Ziferblats in England this year.
Shenton says he's tweaking Mitin's concept. At his three-month-old Ziferblat in Manchester, it's 5 pence per minute, rather than the 3 pence Mitin initially instituted at the London location. Shenton says the original rate couldn't generate a profit. The Manchester Ziferblat serves an average of 216 customers a day, each staying an average of one hour and 19 minutes. "We're encouraging a permanent tea party atmosphere," he says, but he's not coy about his motive. "It was very, very much an art crowd," he says of the London operation. "It wasn't run as a business." Mitin's learning from his new partner: The London fee has gone up to 5 pence.
The bottom line: A chain of metered cafes that began in Russia is expanding to other countries through franchising.
Before it's here, it's on the Bloomberg Terminal.
LEARN MORE