This Grown-Up Nail Art Trend Is Perfect for Spring
Subtle designs with soft colors finish your look
By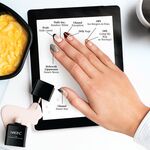 Nail art, with its impossibly detailed patterns and tacky appliqués, wasn't ideal for the workplace when it took off in the U.S. five years ago. Still, the trend got more women doing their nails: Polish sales exceeded $1 billion for the first time in 2012, driven by people who tried intricate styles and then opted insteadfor simpler, solid neutral and pastel nails.
Now nail art is back, but in a more adult way. Negative-space nails, as some manicurists call them, combine half-moons, rectangles, and other geometric shapes using matte varnish. The designs should be small enough to expose an unpolished area. "This is a far cry from flashy, busy, hand-drawn designs," says Julie Kandalec, the creative director of Paintbox, a New York salon. "It's sophisticated and modern." For best results, pair one or two dark colors with a pale tan or white shade. Place the accents so they border at least one end of the nail—bottom, top, or a side—and use tape as a guide to keep lines straight. (Or just head to a salon.) The pros clean up smudges with an eyeliner brush dipped in remover. Add a top coat, then gesture big in your next meeting.
Before it's here, it's on the Bloomberg Terminal.
LEARN MORE