Pimco Pulls Back on Stock Picking With No Plan to Fill Top Job
Mary Childs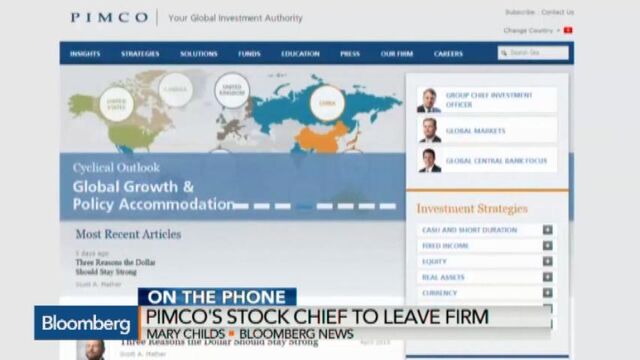 More than five years after Pacific Investment Management Co. started its third effort to add stock-picking strategies to its lineup of bond funds, the firm is retreating again.
Pimco said Thursday that it will close three active stock mutual funds and instead focus on enhanced indexing strategies. Virginie Maisonneuve, chief investment officer for equities, will leave next month as part of the shift, and the role goes with her -- Pimco has no plans for a new CIO of equities, a person with knowledge of the matter said.
Her departure is the biggest setback yet to a plan, announced in 2009 under former investment chiefs Bill Gross and Mohamed El-Erian, to transform Pimco from a bond shop to a diversified money manager. The push into active stock funds has suffered from lackluster performance and weak investor demand, even as equities have rallied. Pimco co-founder Gross, who left the firm last year amid a power struggle, argued before his departure that the stock push wasn't cost-efficient and that Pimco needed to retrench, Bloomberg News reported in December.
"It's a bad sign for Pimco's ability to diversify to other investment styles," Todd Rosenbluth, director of mutual fund and ETF research at S&P Capital IQ, said in a telephone interview. "Investors have really not looked to it as a one-stop shop."
Business Blip
The three stock funds being liquidated by Pimco have gathered less than $1 billion in assets since the first of them started more than five years ago, and the investment professionals who worked on them will leave as part of the transition, according to the person, who asked not to be identified since the plans aren't public. The vast majority of the $1.6 trillion managed by the Newport Beach, California-based firm is in bonds.
"'Blip' is giving it too much credit for that business," Rosenbluth said.
The firm said it will continue offering some active equity funds, including its $895 million Pimco Dividend and Income Builder Fund and its $904.2 million EqS Long/Short Fund.
Pimco is expanding its enhanced indexing offerings and this year said it was adding new strategies with Robert Arnott's Research Affiliates. Pimco's equity strategies, including the enhanced indexing ones, hold about $50 billion in assets.
"We are evolving our approach to focus on areas that are more fully aligned with our capabilities and clients' needs," Chief Executive Officer Douglas Hodge said in an e-mailed statement Thursday.
Earlier Attempts
Pimco has tried to expand into stocks before; an initial attempt in the 1980s failed after its bond traders overwhelmed a handful of equity managers at strategy meetings, eventually prompting them to quit. In 1999, Pimco's then-parent company tried to start a separate unit, which ended in legal trouble after regulators accused it of allowing a hedge fund to engage in market timing. The unit paid fines and repayments to settle the allegations, without admitting or denying wrongdoing.
Pimco's co-founder Bill Gross vowed not to repeat those mistakes when, with former CEO El-Erian, the firm took another stab at shifting beyond bonds. Pimco hired Neel Kashkari to oversee its stock push. In a 2010 interview, Gross said he might have contributed to the embedded bond bias within Pimco, and that he welcomed the balance that an equities business would bring.
That business got off to a slow start, with the funds posting subpar returns. The EqS Pathfinder fund, the first of Pimco's active stock funds, has trailed 59 percent of peers in the past five years. The effort faced another setback when Kashkari, who previously oversaw the U.S. Treasury's Troubled Asset Relief Program in the 2008 financial crisis, left Pimco in January 2013, saying he wanted to pursue a career in public service. A year later, Maisonneuve joined in London from Schroders Plc to lead the push.
Pimco Turmoil
Executive turnover at the equities business was only a small part of the broader turmoil at Pimco. In January 2014, El-Erian left Pimco, which prompted reports of clashes between him and Gross. Then in September, Gross abruptly left the firm after losing a power struggle. In the weeks before his departure, Gross had expressed in an internal meeting that he wanted Pimco to return to a simpler model of managing just bonds, and abandon strategies including equities and real estate. Days later, Pimco hired five people for its global equities team, and then added two more in December.
Better Weather
Shuttering a unit that's failed to attract assets after five years is "normal" for the industry, and "those products haven't gained traction," Rosenbluth said. New products cost the firm money to set up and run, and products that fail to grow assets hurt profitability.
Maisonneuve is the only woman in Pimco's 12-person Global Executive Leadership team, and one of 10 female managing directors at the firm, which has 66 managing director positions in total. Before joining Pimco, she managed stock funds in Schroders's London office for nine years, overseeing strategies such as Schroder International Alpha Fund as the head of global and international stocks.
She began her career working with the French Ministry of Foreign Affairs in China. She has a master's degree in Mandarin Chinese from Dauphine University in Paris, a master's in business administration from Ecole Superieure Libre des Sciences Commerciales Appliquees in Paris and a degree in political economics from People's University in Beijing.
Building Rome
Now, she's overseeing Pimco's liquidation of its active equity funds. The firm is shutting its Emerging Multi-Asset Fund, the Eqs Emerging Markets Fund and the EqS Pathfinder Fund, according to filings Thursday with the U.S. Securities and Exchange Commission.
"I personally think we've done a lot of grunt work, a lot of hard work, and for Pimco it's actually quite recent," Maisonneuve said in a telephone interview in March. "Rome wasn't built in a day but I think we've made some very good progress."