Perella Weinberg's Stewart Charged With Insider Crime
Patricia Hurtado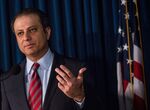 Perella Weinberg Partners LP Managing Director Sean Stewart was charged with tipping his father to pending mergers in the health-care sector in a scheme that allegedly reaped more than $1 million in illicit profit -- and helped pay for his wedding.
Sean Stewart, 34, is accused of giving Robert Stewart, 60, secret tips about five acquisitions announced from 2011 to 2014, according to a criminal complaint filed Thursday in Manhattan federal court. Manhattan U.S. Attorney Preet Bharara announced the charges against the two men without naming the investment firms involved.
Sean Stewart allegedly began feeding his father nonpublic information information about upcoming mergers and acquisitions in early, while he was a vice president in health-care investment banking for a New York-based global bank not identified by prosecutors.
In the first deal, announced in May 2011, the younger Stewart worked with Kendle International Inc. in its acquisition by INC Research LLC, the government said.
When Robert Stewart was questioned by the U.S. Securities and Exchange Commission about his Kendle trades in May 2013, he said he used the proceeds to pay for his son's wedding on June 4, 2011. The second illegal tip from son to father came in July of that year, the government said. The other three deals cited by prosecutors happened in 2012 to 2014, while Sean Stewart was at Perella Weinberg.
Arrests Thursday
Perella Weinberg has suspended Stewart pending the outcome of the government's investigation and is cooperating with the U.S. Attorney, a spokeswoman for the firm said.
"Today's charges against an employee of the firm alleging insider trading activity are unprecedented in our history," Kara Findlay said in a statement. "The described rogue behavior, if true, violates not just the law, but our principles, our culture and the strict policies and procedures we have in place to protect our clients."
Robert Stewart, arrested Thursday by agents with the Federal Bureau of Investigation at his home in West Merrick, New York, was released by U.S. Magistrate Judge Andrew Peck in Manhattan on a $500,000 bond secured by $100,000 cash. His lawyer, Nicholas Pinto, didn't immediately respond to voice-mail and e-mail messages seeking comment about the case.
Sean Stewart, who surrendered Thursday to federal authorities in Wisconsin, will appear in federal court in Manhattan on Monday, the U.S. said. His lawyer, Gerald DiChiara, didn't immediately respond to a voice-mail message seeking comment on the case.
Managing Director
Sean Stewart's LinkedIn page states he's a managing director at Perella Weinberg and has worked there since November
2011. It states he was a director until December 2013, when he was promoted to managing director.
He also worked at JPMorgan Chase & Co. as a vice president from June 2002 to September 2011, where he started as "M&A execution generalist." After that, he spent seven years focused on health-care clients in the life sciences and CRO sectors working on M&A, strategic advisory and financing assignments.
The U.S. says an unidentified cooperating witness made recordings of conversations with Robert Stewart.
In one meeting recorded by the cooperator, the elder Stewart said his son once chastised him for failing to trade on a tip, quoting him as saying, "I can't believe I handed you this on a silver platter and you didn't invest in it."
The case is U.S. v. Stewart, 15-mj-1634, U.S. District Court, Southern District of New York (Manhattan).
(Corrects allegations in story that ran May 14, 2015.)
Before it's here, it's on the Bloomberg Terminal.
LEARN MORE