Wine Wars: Is 'Natural' Really Better?
Vintners who boast their product is all natural are drawing ire from Big Wine
By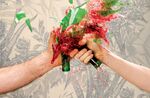 At his small winery in the foothills west of Madrid, Fabio Bartolomei points out a few things the giants in the industry don't like to advertise: Their wines are made from grapes sprayed with pesticides and are tweaked with colorants, thickeners, and flavor enhancers. The founder of Vinos Ambiz takes the opposite approach, producing 8,000 to 12,000 bottles a year of tempranillo, albillo, garnacha, and a handful of other varieties with minimal intervention. Bartolomei and hundreds of other producers of so-called natural wines are now unnerving (or at least annoying) the big commercial players of the industry as restaurateurs, distributors, oenophiles, and an increasing number of ordinary drinkers seek authenticity in their wines.
The Establishment generally "views natural winemakers as weirdos," says Bartolomei, who lists what he does and doesn't do to his wines on the labels—though he doesn't have to. (Neither Europe nor the U.S. requires wine producers to list ingredients other than sulfites.) But the movement he belongs to, which began in France in the 1970s, has gained global momentum, with at least a dozen major expos held yearly from London to Tokyo. "Natural wine was considered hippie juice 15 years ago," says John Wurdeman, the American co-founder of Pheasant's Tears, a natural winery located in the former Soviet republic of Georgia that exports 70 percent of its annual output of about 60,000 bottles. The market is "growing at incredible speed," he says, with world-famous restaurants such as Noma in Copenhagen and El Celler de Can Roca in Girona, Spain, each stocking hundreds of labels. Jenny Lefcourt, co-founder of natural wine distributor Jenny & François in New York, says her company's sales have doubled since 2009: "It's not just Paris and New York anymore—we're selling across the U.S."
A January survey of 1,000 wine drinkers by market-research firm Nielsen showed 65 percent of 21- to 34-year-old respondents were interested in natural wine. Although there are no reliable statistics, experts estimate that natural wine sales amount to less than 1 percent of the total worldwide, which reached nearly $268 billion in 2014, according to Euromonitor International. "A lot of people are jumping on the bandwagon because it's sexy to make natural wine," says Isabelle Legeron, the organizer of RAW, an annual natural wine fair in London that draws some 180 vintners and 3,000 visitors. "It's very similar to the growth of craft beer," says Legeron, one of 322 people worldwide who's certified as a Master of Wine. She, Bartolomei, and Wurdeman say demand is running ahead of supply. Prices in the U.S. are similar to conventional wines, ranging from $9 for a natural red table wine from Frey Vineyards in California to $275 for the sought-after 2012 Vosne-Romanée Les Jachées from French producer Jean-Yves Bizot.
The growing popularity of natural wine has stoked tensions within the larger industry. Many wine producers take issue with the term, which they say disparages those who don't claim to be natural. Also, anyone can use the designation because there's no official definition. The concept "pisses people off," says Spiros Malandrakis, a senior analyst at Euromonitor in London. Michael Kaiser, director of public affairs at WineAmerica, a Washington-based trade group with more than 600 members, including large producers such as Constellation Brands, says "the consumer needs to know [natural wine] doesn't mean other products are not as good because they're not labeled as 'natural.' "
Big Wine wants "to belittle" the term natural wine, says Alice Feiring, author of two books on the subject, because it shows how industrialized the winemaking process has become. "They want to destroy it," she says. "Conventional producers are in a scramble because they don't want to lose market share."
France, Italy, and Spain are the world's largest producers of natural wines, but other countries want to join the club. The Georgian government has invested about $500,000 since it started promoting the country's natural wine in 2012, according to Irakli Cholobargia, head of marketing at the National Wine Agency in Tbilisi. Demand has been so strong that the country's 30 or so natural wine producers "are sold out" before the product is bottled, he says.
Vineyards in California also want in. "I joke around that in Europe they have a 2,000-year head start on us," says Darek Trowbridge, who founded Fulton-based Old World Winery in 1998 after becoming disenchanted with industrial wine production methods while earning his oenology master's at Fresno State.
Some proponents believe that as consumption of natural wine continues to rise, conventional brands will face growing pressure to list the additives they use on their labels. "If you buy a Snickers bar, you have the right to read what's in it," says Wurdeman. "You don't have that right when you buy a bottle of wine." WineAmerica's Kaiser says "the existing labeling requirements are adequate."
The debate has been healthy for the industry because it shows there's an alternative way, says Paul Draper, chief executive officer and head winemaker at Ridge Vineyards in Cupertino, Calif. Starting with his 2011 vintage, he redid his labels to include all the additives and processes he uses.
But do the virtues of natural wine guarantee that it tastes good? David Bird, a chemist and Master of Wine whose book, Understanding Wine Technology, is a standard for teaching conventional winemaking, believes natural is better. Yet he concedes he's "tasted some very strange ones, which are not really very pleasant." Says Bird: "You have to know the science behind it and control it."
The bottom line: Demand for natural wines is growing faster than supply, which is fueling tensions within the industry.
Before it's here, it's on the Bloomberg Terminal.
LEARN MORE