business
Mary Creagh Said to Be Joining U.K. Labour Leadership Race
Robert Hutton
Mary Creagh Said to Be Joining U.K. Labour Leadership Race
Robert Hutton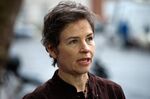 Mary Creagh, the U.K. Labour Party's spokeswoman on international development, is to join the race for the party leadership, according to people familiar with her plans who declined to be identified.
Creagh, 47, is the surprise fifth entrant to the race, and the third woman to throw her hat into the ring. Bookmaker William Hill had her listed as a 100-1 outsider today. The bookmakers' favorite is business spokesman Chuka Umunna, who would be the party's first black leader, and its youngest at 36. Home affairs spokeswoman Yvette Cooper and junior health spokeswoman Liz Kendall are both also running, as is health spokesman Andy Burnham.
She now faces a four-month battle to succeed Ed Miliband, who quit as Labour leader last week after the party suffered its worst electoral defeat to the Conservatives since 1987. Candidates need to secure the support of 35 fellow Labour members of parliament. Nominations close June 15 and voting ends Sep. 10, with the results due to be announced two days later.
While the party has never elected a woman as leader, it's currently being led on an interim basis by Harriet Harman for a second time. Margaret Beckett has also been interim leader.
(See EXT3 for more on the U.K. election campaign.)