Martin O'Malley Said to Schedule May 30 Announcement on Political Plans
He'd present a challenge to front-runner Hillary Clinton from the left if he formally joins the presidential race.
By and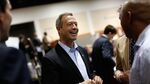 Former Maryland Governor Martin O'Malley will make an announcement about his political plans on May 30 in Baltimore, said two aides who asked not to be identified. 
O'Malley has been considering a bid for the 2016 Democratic presidential nomination, and would present a challenge to front-runner Hillary Clinton from the left if he formally joins the race. The Washington Post reported his announcement plans earlier Thursday.
O'Malley is set to speak to former staffers on a conference call Thursday evening, spokeswoman Lis Smith said in a statement on Wednesday, noting that O'Malley has previously said he'll make a decision by the end of May. "He's been doing a lot of outreach to longtime supporters, friends, and staff in advance of that, as it's obviously a big decision," Smith said.
He won't officially announce a run on the call, the two aides said. A direct announcement on the call would likely trigger a 15-day deadline forcing him to file paperwork before May 30, the Post said.
O'Malley has contrasted himself with the other official candidate in the primary race, Senator Bernie Sanders, in his willingness to go after Clinton on character as well as policy. "I believe that we are best as a party when we lead with our principles and not according to the polls," he told reporters at Harvard on April 16.
Both O'Malley and Sanders, a self-described socialist who represents Vermont, trail Clinton in national and early-voting state polls. Clinton was the first choice of 62 percent of likely primary voters in New Hampshire in a Bloomberg Politics/Saint Anselm poll published this week, followed by Sanders at 18 percent and O'Malley at 3 percent.
O'Malley's seven years as mayor of Baltimore have come under scrutiny as demonstrators protested the recent death of Freddie Gray, a black man who suffered injuries in police custody. O'Malley has defended his record, saying his actions drove down violent crime.
He has been ramping up a possible campaign in recent weeks: He visited New Hampshire on Wednesday, and last week he hired Karine Jean-Pierre, a former aide to President Barack Obama, as national political director, according to the New York Times.