John Bolton Says He Will Not Seek Republican Presidential Nomination
His views already are well reflected in a GOP field that has been unanimous in calling for a more unilateral, robust style of leadership than President Obama represents.
By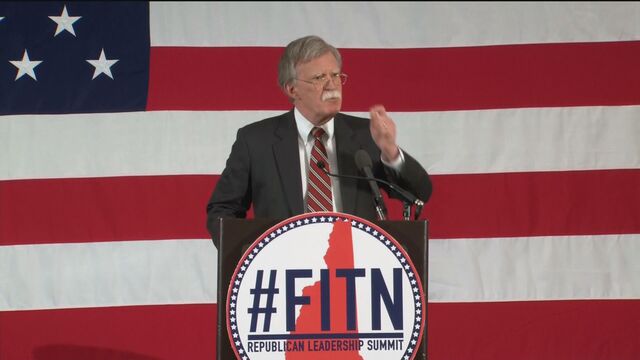 Former United Nations Ambassador John Bolton said Thursday he has decided not to join the Republican presidential race.
"As I look forward, I have decided not to seek the Republican nomination for president," Bolton said in a Facebook video. "I believe I can make the strongest contribution to our future by continuing as a clear and consistent advocate for a strong Reaganite foreign policy that values peace through strength."
Bolton's views already are well reflected in a Republican field that has been unanimous in calling for a more unilateral, robust style of leadership than President Barack Obama represents. The interest of Bolton and his financial backers in developing like-minded proteges was evident during the last campaign cycle, when the Bolton super-PAC spent some $3 million backing Republican Senate candidates, including Tom Cotton of Arkansas, who in his first year made headlines (and raised eyebrows in his own party) by trying to upend an Obama administration nuclear deal with Iran.
Brusque, intellectual, and confident, the 66-year-old former ambassador who now wants to serve as a godfather of Republican politics spent most of his career in government and conservative politics behind the scenes. That changed 10 years ago, when a re-elected President George W. Bush nominated Bolton to become America's chief diplomat at the United Nations. A media frenzy ensued, as enemies surfaced old quotes of Bolton mocking the very existence of the international body.
"There is no United Nations," he'd said in 1994. "There is an international community that occasionally can be led by the only real power left in the world, and that's the United States." 
Democrats, horrified by the Bolton worldview and hungry for a win, successfully campaigned against Bush's nominee. Joined by two moderate Republicans, Ohio Senator George Voinovich and Rhode Island Senator Lincoln Chafee (who is now a Democrat), they portrayed Bolton as dangerous and unreasonable at a time when the Iraq War had already cost America significant international support. After cloture votes failed, Bolton was recess-appointed to the job, where his campaign to replace the UN's Human Rights Commission won praise by some of his former critics. 
Yet when Democrats won the 2006 midterms, the door slammed on a longer Bolton term. He returned to the world of punditry and think tanks as a "Goldwater Republican" icon. In 2007, he published his memoirs and became a frequent presence on Fox News. When Obama took office, Bolton was positioned to become the most fearless and confident critic of the new president's foreign policy. 
"He said during the campaign he thought Iran was a tiny threat," said Bolton at the February 2009 Conservative Political Action Conference. "Tiny, tiny depending on how many nuclear weapons they are ultimately able to deliver on target. It's tiny compared to the Soviet Union, but is the loss of one American city—pick one at random, Chicago—is that a tiny threat?"
That speech established Bolton as a go-to critic of the new president. If his predictions of an imminent nuclear Iran did not pan out, they nonetheless informed how conservatives thought and talked. Bolton made himself available to Republicans for advice, including at least one Republican, Texas Senator Ted Cruz, who has joined the race for president. In 2011, Bolton himself considered a presidential bid. When he demurred, the former UN ambassador had not one, but two, political action committees working on his behalf. During the last two years, the Bolton PAC raised more than $2.2 million during the last two years and spent $1.9 million, much of it for online and direct mail fundraising. 
The Bolton super-PAC, which can collect bigger checks, raised more than $5.8 million and spent $5.5 million in the 2014 campaign cycle. Republican Senate candidates it went to support also included Thom Tillis of North Carolina, who won, and Scott Brown, who lost in New Hampshire. Top donors to Bolton's super-PAC include Warren Stephens, an investment banker from Little Rock; Robert McNair, the owner of the Houston Texans football team; and Robert Mercer, a hedge fund manager who has also given generously to Cruz. Mercer gave $1 million to the Bolton super-PAC. Stephens and McNair gave $500,000 apiece. Mercer, however, now appears to be backing Texas Senator Ted Cruz for president.
Both committees had been drained by the end of last year. The Bolton super-PAC reported having just over $200,000 in the bank as of its last report to the Federal Election Commission; the PAC had $374,000. A Bolton presidential campaign would not have started with much of a war chest, but may have been able to build on an enviable donor list and recognizable, mustachioed brand.
None of this high-profile involvement in national politics could have been expected for a wonkish lawyer from Baltimore. In an interview with Bloomberg on Wednesday, Bolton remembered his upbringing in a conservative household, led by a firefighter father who was prevented from registering as a Republican.
"The guy said to him, 'There's a mistake on your form,'" said Bolton, retelling his father's story. "That happened every year. My father and the registrar came to duking it out there in the voter registration office." 
Bolton went on to volunteer for Barry Goldwater's presidential campaign; 51 years later, he still describes himself as a libertarian, more interested in freedom than in social issues. Alone among his would-be rivals, he has no problem with legal gay marriage. He had not laid out comprehensive immigration or tax policy overhauls. His views of domestic policy had been shaped, in part, by the decline of the Baltimore he grew up in, and the lack of answers he saw when attending Yale Law School in the 1960s.
"I read the Communist Manifesto, and pieces of Das Kapital, and I thought it was all absolute bulls--t," said Bolton. "This guy didn't know any more about the working class than the walls he looked at in the British library. I never thought I was underprivileged, but I thought Marx was on a different planet."
Bolton won't be personally taking that message into the Republican debates. Yet hawks like South Carolina Senator Lindsey Graham are ready to echo most of his arguments on Iran. Kentucky Senator Rand Paul has readily attacked the United Nations, telling a New Hampshire crowd just this week that Americans should not be "giving money to people who hate us." As a candidate, Bolton might have been one of the darker horses. As an outsider, he can visit any stable he likes.