Hillary Clinton Wants to See Harriet Tubman on the $20
The former secretary of state throws her support behind the movement to replace Andrew Jackson with a woman.
By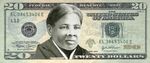 Not only does Hillary Rodham Clinton want to be the first woman elected president, she also wants to see a woman gracing an American banknote. On Thursday, she voiced her support for an online campaign that aims to put a woman on the $20 bill by 2020, the centennial of women's suffrage.
The woman who put the campaign in progress, Barbara Ortiz Howard, is a Clinton supporter, and from the same generation. Howard, who owns an exterior-restoration business north of the Bronx, once marched against the Vietnam War, and for civil rights and women's rights. She told Vauhini Vara of the New Yorker that her recent political activity has been limited to canvassing for Clinton in 2008. But in 2012, Howard sent an e-mail to her friends—"sisters," she addressed them—asking which woman they might want to see on American currency, where women are noticeably absent. One of Howard's sisters, the journalist Susan Ades Stone, got excited, and together the two started a campaign to get a woman on a bill by 2020. The drive got buzz and coverage, and New Hampshire Senator Jeanne Shaheen, inspired by their efforts, introduced an official Women on the Twenty Act to Congress. (Nine other senators, all Democrats like Shaheen, have so far signed on.) More than a million online votes later, Women On 20s, a 501c3 non-profit organization, sent a petition to the president to put Harriet Tubman on the $20. They call it a "Virtual March" on Washington.
And now Clinton has joined in:
If elected president, Clinton would have a real say in the matter. If her secretary of treasury, who has constitutionally responsibility for banknote design, balked at changing the $20 bill, she could conceivably seek a more agreeable replacement. 
Senator Shaheen welcomed Clinton's words. "We are seeing a groundswell of support for this idea that can now count Hillary Clinton, in addition to the 600,000 people who voted online, as supporters," Shaheen told Bloomberg in an e-mailed statement. "There is a tremendous amount of excitement for finally having a woman on our paper currency that is going to be very hard to ignore. This is an idea whose time has clearly come."
Shaheen said, "I hope the administration hears that message and takes action to put a woman on the $20 bill."
The group that started the ball rolling to ditch Andrew Jackson portrait on the $20 also celebrated their latest high-profile backer.  
"We welcome Hillary Clinton's public support of the Women On 20s mission and the importance of making this long-overdue change," Stone, Women On 20s' executive director, said in an e-mail to Bloomberg. "We hope people and politicians all across the political spectrum will join in recognizing that if great women helped great men shape this nation, then it's time to bring them out from the background and into the spotlight of our everyday experience."

CORRECTION: An earlier version of this story suggested that the president had no role in changing the portraits on banknotes.