Hillary Clinton Wants to See Harriet Tubman on the $20
The former secretary of state throws her support behind the movement to replace Andrew Jackson with a woman.
By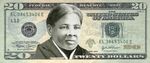 Not only does Hillary Rodham Clinton want to be the first woman elected president, she also wants to see a woman gracing an American banknote. On Thursday, she voiced her support for an online campaign that aims to put a woman on the $20 bill by 2020, the centennial of women's suffrage.