Daimler Veers Into Maximum Overdrive
The company's self-driving Freightliner truck hits the road
By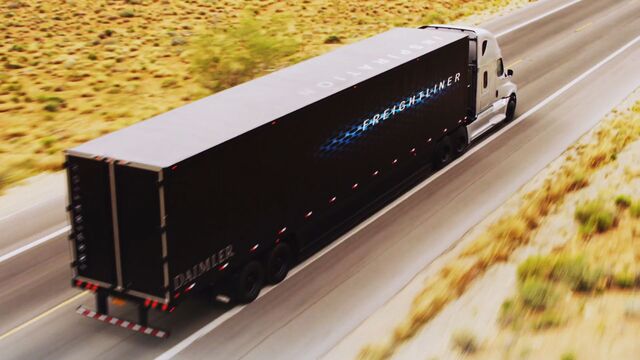 A car that drives itself may be nirvana for daily commuters, but operators of long-haul trucks could reach this plane first. At a May 6 press conference in Nevada, the U.S.'s largest heavy-duty truck manufacturer, Freightliner, unveiled a prototype 18-wheeler called the "Inspiration Truck," the world's first self-driving truck licensed for road tests.
The truck's LED headlights, chain-mail grille, and mod, white-leather interior would be enough to earn it plenty of looks at a Flying J truck stop, but what sets it apart from every other semi on the road is its so-called Highway Pilot system, which uses radar sensors, cameras, and servo motors to detect objects and lane markings around the truck and take over steering, braking, and accelerating from the driver. At a nighttime unveiling atop the Hoover Dam, Wolfgang Bernhard, the global head of trucks and buses for Freightliner's parent company, Daimler, said he expects the technology to add a "new dimension of safety."
The self-driving mode works like this: While traveling along a clearly marked road, the truck's main display will light up an indicator telling you Highway Pilot is available. You can activate it by pushing a button on the steering wheel. The system is similar to cruise control, except that it also steers the truck. You have to stay behind the wheel, though, in case the software determines that it can't handle upcoming twists and turns. In that case, the dash starts a 20-second countdown back to human driving.
The implications are far greater than being able to reply to an e-mail while waiting to merge. More than 3,600 Americans died in crashes with a heavy truck in 2013, according to the Insurance Institute for Highway Safety. Although federal regulations limit truck drivers to 11 hours a day behind the wheel, that's still a lot of time—and it's unclear how many abide by the rule. "Ninety percent of truck accidents are due to driver error, and 1 in 8 of those are due to driver fatigue," according to Bernhard.

Daimler tested a self-driving Mercedes-Benz truck prototype in Germany last fall, but the U.S. is a more rigorous proving ground, says Martin Daum, head of Daimler Trucks North America. "The distances traveled in North America are far greater than what's usually driven in Europe," says Daum. U.S. trucks travel more than 50 percent farther each year than, say, a truck in Germany, says the nonprofit International Road Federation.
Lest unions start picketing Freightliner factories, executives were quick to note that the Inspiration Truck is a Level 3 autonomous vehicle, as defined by the National Highway Traffic Safety Administration. That means a driver must remain at the wheel at all times while the truck is in motion and be able to take over driving "with a sufficiently comfortable transition time," according to the agency's regulations. Daum says tomorrow's driver will be a "logistics manager" who oversees the automated systems, talks with dispatchers, and drives the truck in places like cities. "The human brain is still the best computer money can buy," he says.
About 3 million heavy-duty trucks in the same class as the Inspiration move 9.2 billion tons of freight in the U.S. each year, estimates the American Trucking Associations. Fleet owners such as UPS and J.B. Hunt Transport aren't exactly early adopters when it comes to new technology, but as online shopping tilts more commerce from physical stores to shipped packages, major trucking companies are likely to need more vehicles. The American Trucking Associations and researcher IHS Global Insight estimate that by 2025, U.S. freight tonnage will have risen 23.5 percent from its 2013 figure. "This comes with a big challenge," says Bernhard. "We have to manage the growth of our industry in a way that works for the environment and the economy. And that's exactly what autonomous trucks can do."
Like other self-driving vehicles, Daimler's technology isn't legal in most places yet. Nevada is the only state letting Freightliner test its Inspiration Trucks, and Daum says not to expect one alongside you on the highway until the middle of the next decade. But he says he hopes to show regulators that the truck makes things easy enough for drivers that they should be allowed to spend more than 11 hours behind the wheel. Freightliner is also lobbying for permission to update some of its other systems, including by replacing rearview mirrors with smaller video cameras.
Governor Brian Sandoval personally affixed the first Inspiration Truck's license plate, and Freightliner has the lead for now. But Daimler should expect competitors to catch up quickly, says Steven Volkmann, an analyst for investment bank Jefferies. "Freightliner deserves kudos for being the first, but they won't be the last," Volkmann says. "Something like this is inevitable."
The bottom line: Daimler's Freightliner is testing its self-driving truck on Nevada's highways as it seeks wider regulatory approval.
Before it's here, it's on the Bloomberg Terminal.
LEARN MORE