Boiler Rooms Meet Boardrooms as Scammers Invade London City
Neil Callanan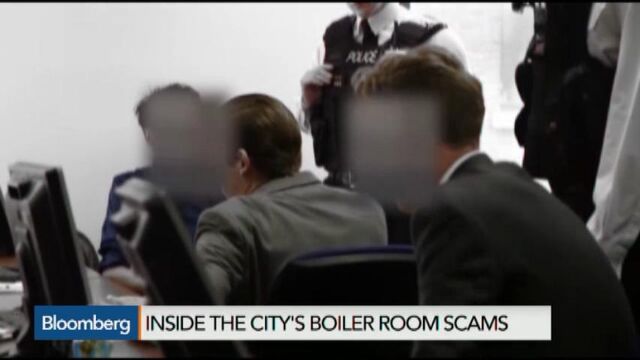 From the champagne bar atop Tower 42, there's a clear view of the City of London, where some of the world's largest financial crimes have been engineered.
What can't be seen, though, are the mom-and-pop swindles that are increasingly being run through offices below.
Cold-calling con artists promising outsized returns are jumping on a surge in the availability of serviced offices at prestigious locations to give their operations an air of respectability, investigators in London's main financial district say. These "boiler rooms" dupe investors out of about 1.25 million pounds ($2 million) on average before they "rip and tear" and disappear with little trace, they say.
"That's a staggering amount," Detective Inspector Teresa Russell said in an interview. "We never had this type of criminality a few years back."
Such fraudsters either rent a "virtual office" that redirects mail and phone calls for as little as 105 pounds a month or sign a short-term lease and occupy a physical one, Russell said. Serviced-office providers agreed to lease 840,000 square feet (78,000 square meters) of space in the City of London in the year through March, more than double the amount in the previous 12 months, according to broker Knight Frank LLP.
Boiler rooms buy contact details from data companies of potential victims around the country, usually older people with retirement savings. Once on the phone, operatives read from scripts honed to highlight the alleged riches that await from investing in everything from gold to bamboo, said Jon Averns, head of public protection for the City of London council.
'Young, Loud'
"These are really sophisticated sales people," Averns said in an interview. "They're frequently young, loud and quite full of themselves."
More than 5,000 British investors reported losing more than 1.73 billion pounds in total through such scams in the year through September, the latest available police data show.
Peter Hodgson, 78, lost about 70,000 pounds buying colored diamonds from an outfit called No1 Gems, money meant to help cover future nursing care costs for himself and his wife.
At first, Hodgson said he agreed to invest just 2,000 pounds, but when his salesman called back after a few days to tell him the value of his gem had already doubled, he couldn't resist buying more. He only learned his rocks were worth less than 5 percent of what he paid when he took them to Hatton Garden, London's jewelry quarter, for an independent appraisal.
'Big Hole'
"It left us with a big hole in the future," Hodgson said in an interview. "It really damaged my health, the stress."
Five men were eventually sentenced to a combined 20 years in jail for their role in the No1 Gem con.
Last month, a 30-year-old woman and 52-year-old man who ran a boiler room with a City of London address were convicted of fraud for selling diamonds for as much as 30 times their true value. Most of the 1.5 million pounds they took from victims was sent overseas or used to buy luxury goods in stores such as Harrods and Selfridges.
Police also arrested a man on suspicion of being part of a gang that bilked more than 250 people out of about 3 million pounds selling fake platinum and palladium investments.
Victims rarely get their money back because it often takes them as long as a year to realize they've been had, by which time it has already been spent.
"The money's gone, the victims are left with nothing and there's very little for us to go on evidentially," said Russell, the investigator.
Operation Broadway
For that reason, City of London police and other government bodies are seeking to raise public awareness of the problem and encourage workers to be their "eyes and ears in London's office blocks," according to Detective Superintendent Maria Woodall, who is overseeing the collective policing effort known as Operation Broadway.
In March, the Operation Broadway taskforce distributed 16,000 flyers to the public and conducted spot checks for possible boiler rooms at 25 locations in the City of London, Canary Wharf and Westminster. The targets included Regus Plc's serviced-office center in Tower 42, according to a person familiar with the matter who declined to be identified.
Regus, the world's largest operator of serviced offices, said in a statement that it takes boiler rooms "extremely seriously" and that it carries out a number of checks "to ensure our customers are bona fide."
To rent a virtual office, customers are supposed to provide at least two forms of identification, one with a photo and another with a current address, but some operators aren't requiring both, according to Russell.
"Prevention of crime and detection of crime is high on our agenda, but it's not on theirs," Russell said.
Without stringent background checks, Europe's largest financial center will continue to attract scam artists, said Mark Button, director of the Centre for Counter Fraud Studies at the University of Portsmouth.
"If you're selling investments from a City postcode as opposed to a postcode in Walsall in the West Midlands, that is obviously going to give you a much better chance of convincing the victim that what you are doing is legitimate," Button said.
(A previous version of this story corrected the spelling of the university in the penultimate paragraph.)