business
Avon-Offer Hoax Shows It's Easy to Put One Over on SEC's Edgar
Dave Michaels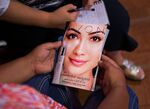 Fooling investors is surprisingly easy. You can even do it on the government's official site for company filings.
The latest reminder unspooled within a few minutes Thursday when a notice came out that a purported private-equity firm made a bid to buy Avon Products Inc. In a market where computers scrape filings and trade automatically on news headlines, the stock shot up 20 percent before the company said it was a hoax.
The notice, submitted by a firm registered at an empty office, was filed on the Securities and Exchange Commission's Edgar system, which houses more than 20 million company filings for investors to peruse. Already more than 4,700 filings have been submitted today.
The SEC doesn't verify whether entities using its filing systems "are real or have money," said James Maloney, a former SEC official now at law firm Gibson Dunn & Crutcher. Getting access to Edgar "is no more complicated than signing up for an e-mail account," he said.
There's a history of scammers putting out phony press releases to juice a stock price and then sell to investors who bought their fake news. This also isn't the first time that credibility-stretching claims have made their way onto the SEC's system. Few beat the 2001 filing that genererated this headline: One-Man Startup Bids for GM, GE, AT&T, AOL, Marriott.
The SEC is reviewing the legitimacy of the filing, a person familiar with the matter said. In the past, the agency has looked for unusual trading and has frozen related brokerage accounts. The SEC has had limited ability to go after scams perpetrated from abroad.
Should the SEC vet Edgar filings before they go out? Maloney says no.
"It would be the equivalent of saying don't let anyone have e-mail or Twitter because they might use it for bad purposes," he said.
SEC spokesman Kevin Callahan declined to comment.
Before it's here, it's on the Bloomberg Terminal.
LEARN MORE