Sumitomo Mitsui More Upbeat About Profit Than Analysts
Takahiko Hyuga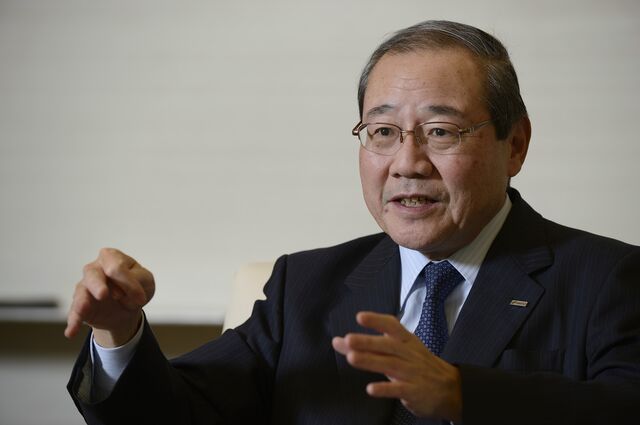 Sumitomo Mitsui Financial Group Inc. forecast higher profit than analysts estimated in anticipation that loan growth at home and abroad will make up for shrinking interest margins.
Net income will increase 0.8 percent to 760 billion yen ($6.3 billion) in the year ending March, the lender said in a statement Wednesday. The average estimate of 13 analysts surveyed by Bloomberg was for profit to drop to 736 billion yen.
Sumitomo Mitsui President Koichi Miyata said this year will be a "very good one" for lending by the nation's second-biggest bank by market value as more Japanese companies make capital investments. More than two years of domestic loan growth at major banks hasn't been enough to spur their lending profitability as record monetary easing under Prime Minister Shinzo Abe constrains interest rates.
"It's positive to see a higher profit projection from a bank that's normally very conservative in its outlook," said Rie Nishihara, a senior analyst at Mizuho Securities Co. in Tokyo. "It's good to hear that Sumitomo Mitsui is confident in prospects for domestic business in particular, such as lending to small firms and consumers."
Profit for the year ended March fell 9.8 percent to 753.6 billion yen, the company said. While the total was higher than the bank's forecast for 700 billion yen, it missed the average 788 billion yen projected by analysts.
The company raised its planned dividend to 140 yen this year from 120 yen last year.
Good Year
"Japan's economic rebound under Abenomics has finally begun spreading to smaller companies," Miyata, 61, told reporters in Tokyo. "Domestic lending is clearly turning around and capex demand is solidly increasing as company earnings improve."
Net interest income, or revenue from lending minus payments on deposits, rose 1.4 percent last fiscal year to 1.5 trillion yen, the Tokyo-based bank said.
Fees and commissions climbed 1.2 percent to 997 billion yen. Net trading and other operating income gained 11 percent to 476 billion yen.
The bank agreed in December to acquire Citigroup Inc.'s Japanese retail banking unit to boost its business targeting wealthy individuals. A stock-market rally and signs of inflation have prompted Japanese to invest more of their savings, giving banks an opportunity to earn more from fee businesses.
Interest Margins
Shares of Sumitomo Mitsui fell 2.6 percent before the report, paring this year's gain to 20 percent. The benchmark Topix index is up 14 percent in 2015.
The difference between deposit and lending rates at Sumitomo Mitsui's main banking unit narrowed by eight basis points from a year earlier to 1.29 percent in March, it said. The average interest rate on new loans in Japan was just 0.805 percent in February, close to a record-low 0.767 percent in August, Bank of Japan figures show.
The pace of declines in interest margins has eased but the trend remains, Miyata said. Credit growth abroad has been making up for the narrower margins, he said.
The lending unit had 19.3 trillion yen of loans outstanding overseas as of March, a 22 percent increase from a year earlier.
Since 2012, Sumitomo Mitsui has bought stakes in lenders including Indonesia's PT Bank Tabungan Pensiunan Nasional and Hong Kong's Bank of East Asia Ltd. Its investment-banking arm is seeking to increase headcount abroad to expand underwriting and mergers advice, SMBC Nikko Securities Inc. Chief Executive Officer Tetsuya Kubo said last year.
Mitsubishi UFJ Financial Group Inc., Japan's biggest bank, and Mizuho Financial Group Inc., the third largest, are scheduled to report their results and profit projections Friday.
Before it's here, it's on the Bloomberg Terminal.
LEARN MORE