Puerto Rico Talks Seeking to Avoid Receiver, Knighthead Says
Laura J. Keller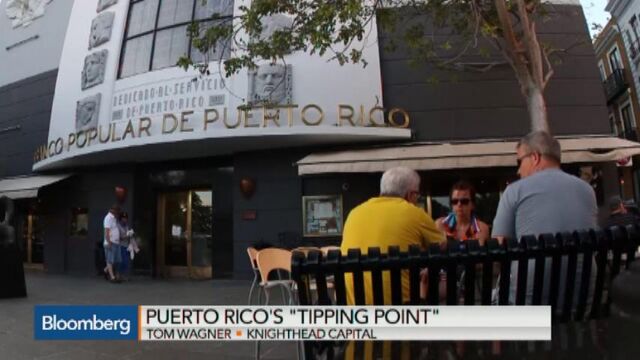 Creditors of Puerto Rico's power utility are pursuing negotiations to shore up the cash-strapped agency, seeking to avoid putting a receiver in charge of a debt restructuring, said the co-founder of a hedge fund that owns the utility's debt.
"Rather than go that route, we and other bondholders have put forward a proposal," Tom Wagner, the co-founding partner of New York-based hedge-fund firm Knighthead Capital Management, said in an interview on Bloomberg Television. "We are focused on trying to find a capital markets solution to resolve the problem."
Knighthead, which manages about $4.3 billion and invests in distressed debt, is part of a group of hedge funds and creditors that hold about $5 billion of Puerto Rico Electric Power Authority bonds and are negotiating with the agency over how to restructure its debt. Creditors have agreed not to take action against the agency until June 4.
The two sides have been trying to come to an agreement for nine months as Puerto Rico struggles under the burden of $72 billion of obligations issued by the commonwealth and its agencies. While the public utility with more than $8 billion of municipal-bond obligations hasn't yet submitted its own restructuring proposal, it has thrown barbs at the one bondholders proposed in April.
Creditor Plan
Wagner is the second hedge-fund executive to advocate in the last week for the creditor plan ahead of a June 1 deadline for the utility, known as Prepa, to deliver a counter proposal. Bruce Richards, chief executive officer of Marathon Asset Management, said on May 6 that the lenders' plan "doesn't require a restructuring" and "would keep the principal in place" for the utility's current debt.
The creditor plan would rely on lenders to inject $2 billion into the junk-rated utility to modernize facilities and repair its finances. The proposal seeks a reduction in power-generation costs by switching the fuel burned by the utility's facility near the town of Aguirre to natural gas from more expensive oil.
Raise Costs
Prepa's chief restructuring officer, Lisa Donahue, told a Puerto Rico Senate committee April 14 that the bondholder proposal prematurely assumes "the bond debt is paid in full and on time." The agency criticized the proposal a week later in an April 23 executive summary that said the bondholders' plan to lower the agency's fuel expenses by upgrading the utility's infrastructure would raise costs by about $3.1 billion over nine years.
Prepa officials and its creditors have been in talks to restructure since a forbearance agreement began Aug. 14. The two sides extended the pact that has kept the agency out of default three times since then.
Knighthead, which began investing in Puerto Rico last year, owns bonds of Prepa and the Puerto Rico Aqueduct & Sewer Authority, known as Prasa, Wagner said in an interview with Bloomberg Television's Erik Schatzker and Stephanie Ruhle.
Before it's here, it's on the Bloomberg Terminal.
LEARN MORE