Kim Jong Un Executes Defense Minister for Napping, South Korean Lawmaker Says
Sam Kim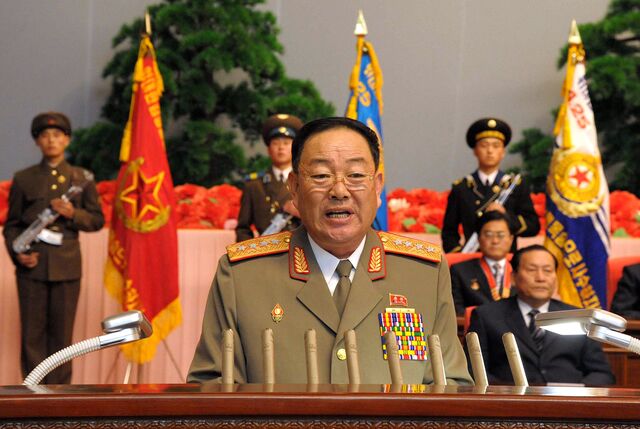 North Korean leader Kim Jong Un has purged his defense minister for dozing off at a rally in the latest removal of a senior official under his rule, a South Korean lawmaker said.
Hyon Yong Chol, minister of the People's Armed Forces, was captured napping in video footage of the event late last month and South Korean intelligence indicates he may have been executed by firing squad, Shin Kyoung Min of the opposition New Politics Alliance for Democracy party said Wednesday by phone. Shin was citing a briefing by the National Intelligence Service.
"Rumors are rampant in North Korea that he's been executed," Shin said. "His crime was lese majeste." Shin added that Hyon had recently fallen out of favor with Kim for supposed disrespectful behavior.
"The purge shows the extreme steps he has to take to have a complete grip on power," Oh Gyeong Seob, a North Korea researcher at the Sejong Institute near Seoul, said by phone. "This may hurt the stability of his regime down the line" because the top brass in North Korea may feel threatened by Kim's brutality, Oh said.
The defense minister is one of the most influential positions in North Korea, along with the chief of general staff and the head of the military's political bureau. Hyon had been in the role since June last year.
Kim's Purges
Kim, believed to be about 30, has purged a series of high-level officials since he took power in 2011. The list includes his uncle and one-time deputy, Jang Song Thaek.
In January, he executed General Pyon In Son, head of operations in the army, for disagreeing with him. He also executed about 50 officials last year on charges ranging from graft to watching South Korean soap operas.
"North Korea is creating an atmosphere of fear through these purges and consolidating Kim Jong Un's sole leadership," South Korean Unification Ministry spokesman Lim Byeong Cheol said at a briefing Wednesday. "We're looking closely at what kind of implications this kind of politics of fear will have on the North Korean regime in the long run."
Kim controls North Korea's 1.2 million troops and nuclear arms program, having taken over the isolated nation of about 25 million people after the death of his father, Kim Jong Il. The nation conducted its third nuclear test in February 2013.
North Korean state media said Saturday that Kim presided over the nation's first successful test of a missile launched from a submarine. U.S. officials have disputed the claim.
Before it's here, it's on the Bloomberg Terminal.
LEARN MORE