Dollar Bulls Wondering What Went Wrong in Drop to Four-Month Low
Lananh Nguyen and Anooja Debnath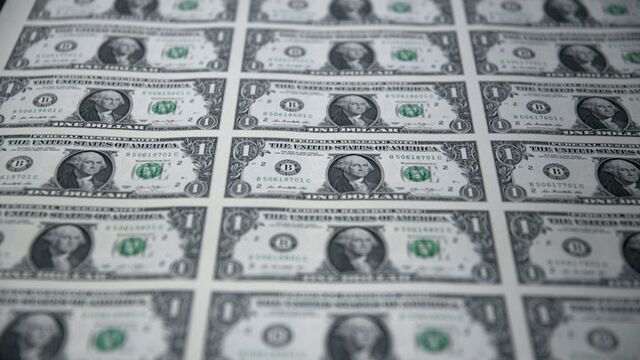 Dollar bulls are pondering what's left of the rally that had pundits talking of dollar hegemony just months ago.
The U.S. currency slid toward the lowest in almost four months a day after stagnant retail sales became the latest data to undermine prospects for Federal Reserve interest-rate increases. The greenback climbed nine straight months through March on speculation the first hike in almost a decade was looming. The dollar's decline brought it to the lowest level in almost three months against the euro.
"It's not surprising that we've seen a healthy retracement," Robert Sinche, a strategist at Amherst Pierpont Securities LLC in Stamford, Connecticut, said in a phone interview. Sluggish economic growth isn't "consistent with early Fed tightening that we think is probably needed to support the next leg up for the dollar."
The Bloomberg Dollar Spot Index, which tracks the greenback versus 10 major trading partners, slipped 0.4 percent to 1,150.04 as of 9:45 a.m. in New York, after it dropped 0.7 percent on Wednesday in the biggest one-day decline since March 23. The index is down 4.1 percent over the past month, stalling after a 20 percent rally that started in early July.
The greenback fell 0.4 percent to $1.1403 per euro, after dropping 1.3 percent Wednesday. That brought its decline versus the common currency to about 7 percent in the past month. It was little changed at 119 yen.
One-Month Outlook
"We didn't really expect it to weaken this soon," said Stuart Bennett, head of Group-of-10 currency strategy at Banco Santander SA in London. "So there is probably an element of surprise even for people like us who are euro-positive and dollar negative."
Bennett said that investors are still sticking to the view that the dollar will eventually recover to advance against the euro, although he doesn't anticipate the pair "is going to automatically return to that direction."
Compounding the dollar's decline against the euro are rising European bond yields relative to those on U.S. Treasuries.
"The further rise in bund yields is keeping EUR-USD bid, and the short-term correlation between the bund-Treasury spread and EUR-USD remains strong," Kit Juckes, a London-based strategist at Societe Generale SA, wrote in a note to clients."Until bund yields peak, we can't think about calling a top in the euro."
Bund Effect
The extra yield that investors receive for holding U.S. 10-year Treasuries instead of similar-maturity German bunds narrowed two basis points, or 0.02 percentage point, to 1.56 percentage points, the lowest on a closing basis since Feb. 5.
The 19-nation currency was also supported by gross domestic product data released Wednesday that showed an increase of 0.4 percent compared with the fourth quarter of 2014. It was the strongest growth since 2013.
A decline in U.S. unemployment applications wasn't enough to support the dollar. Jobless claims decreased by 1,000 to 264,000 in the seven days ended May 9, a Labor Department report showed. The four-week average was the lowest since April 2000.
"It is really all about dollar weakness across the board," said Keng Goh, a foreign-exchange strategist at Royal Bank of Canada in London. While RBC expects the Fed to increase rates in September, "no doubt some of the weakness in the data will probably diminish that conviction a little bit."
Before it's here, it's on the Bloomberg Terminal.
LEARN MORE