Elizabeth Warren Takes a Trade Deal Victory Lap
The senator rallies progressives after beating the Obama administration.
By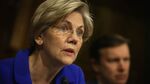 The senior senator from Massachusetts did not hold a news conference after Tuesday's trade vote. All but one of her Democratic colleagues bucked the Obama administration and opposed "fast track" for trade deals, but Elizabeth Warren did not join a rally outside the Capitol that happened to become a celebration of the win. She did not rush onto television to describe how progressives had won, or her role in making it happen. She completely sidestepped the drama that had fueled another day of the story–Ohio Senator Sherrod Brown's insistence that the president had been sexist when he dismissed "Elizabeth" as a politician who got out over her skis.
Instead, Warren's allies would do it for her. Shortly after noon, Warren strolled into a basement ballroom of the Hyatt near Capitol Hill, to keynote the 25th anniversary of the American Prospect magazine. Robert Kuttner, the co-founder of the magazine who came back to edit it after some disruptive funding changes, joked that he'd scheduled the luncheon to happen after the progressives' trade win, and credited Warren for fresh momentum on the left.
"One thing you can't say without getting your clock cleaned is that she doesn't know what she's talking about," said Kuttner. ("Her arguments don't stand the test of fact and scrutiny," the president had told Matt Bai.)
Warren spoke for 22 minutes, mentioning the trade win a full 19 minutes in, as she discussed six progressive policy goals. Trade came in at No. 5.
"No more trade deals that benefit huge corporations and leave small businesses in the dirt," said Warren, her words nearly drowned out by applause. "Corporations shouldn't be allowed to dominate secret trade negotiations. Before Congress votes to grease the skids, trade deals should be out in public where the people who are most affected get to see them."
The rest of Warren's speech was a familiar history of progressive government. Warren described a recent lunch with a "prominent political commentator," who went unnamed, and worried that the Democrats had stopped being known "as the party of growth and shared prosperity," becoming "a movement about how the piece is sliced."
That was exactly wrong, said Warren. The modern progressive agenda was demonized just as the New Deal was demonized, yet the New Deal had worked. Students did not carry as much debt. Wall Street was regulated. There was a wall between traditional banking and investment banking.
"Those rules stayed in place for more than 50 years, and they bought us 50 years of economic peace," said Warren. "Once these new rules were in place, there were no economic crashes. That was an extraordinary achievement, and one that demonstrates the value of basic rules to a functioning marketplace. Let me say it again: Government rules were the necessary condition for a functioning marketplace that produced lasting value. That's how it works."
Warren, who is not running for president, approaches these battles with the rhetoric of a former Republican who learned how the world really works. Vermont Senator Bernie Sanders, who is running for president, is a proud Democratic Socialist who frames the problems with the economy in those terms. In the small ballroom, Warren was demonstrating why progressives were still pining for someone who could define their goals as common-sense, and not the product of a dream-bound left. The trade deal, which appears to have been resurrected, was giving them a small opening.