Burnham to Run for U.K. Labour Leadership After Election Defeat
Tom Beardsworth and Robert Hutton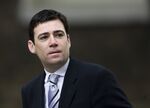 Labour Health spokesman Andy Burnham said he'll run for the leadership of the U.K.'s main opposition party, the third declared candidate to succeed Ed Miliband.
"The party that I love has lost its emotional connection with millions of people," Burnham, 45, said in a video message. He promised to "rediscover the beating heart of Labour."
Senior Labour figures have criticized the direction of the party under Miliband, who resigned as leader after Prime Minister David Cameron defied pollsters' predictions to win a Conservative majority in the general election last week. Burnham will run against junior health spokeswoman Liz Kendall and business spokesman Chuka Umunna, with the winner set to be announced on Sept. 12.
Burnham has represented the northern English district of Leigh since 2001 and held three cabinet-level positions in former Prime Minister Gordon Brown's 2007-2010 government, most recently as the minister responsible for Britain's state-run National Health Service.