Bee Death Increase Seen in U.S. Survey Citing Mites, Viruses
Alan Bjerga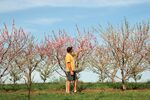 Beekeepers in the U.S. reported that 42 percent of the honeybees they managed last year died, the second-highest percentage since the survey began in 2010, as mites, viruses, and other maladies caused losses to spike.
Pesticide exposure also may play a role in weakening bee population, said Dennis vanEngelsdorp, a University of Maryland researcher who directed the annual study released Wednesday.
Even with the deaths, the bee population has remained steady for the past decade. A stepped-up death rate means beekeepers spend more time and money replacing hives, making pollinating fruits and vegetables more expensive.
"The report underscores the complexity of the pollinator challenge," U.S. Agriculture Secretary Tom Vilsack said in an interview. "It's about pathogens, it's about pests, it's about pesticides, it's about diet and the diversity of crop production, it's about the stress of transportation. It doesn't lend itself to a quick, easy, simple answer."
A malady called Colony Collapse Disorder, which was identified nearly a decade ago and coincided with a doubling of honeybee death rates, has waned while traditional mites and viruses seem resurgent, the survey shows.
The 6,128 beekeepers that took part in the survey funded by the U.S. Department of Agriculture managed almost 400,000 hives as of October, representing about 15 percent of U.S. commercial beehives.
Summer Deaths
Summer deaths outpaced those in the winter, the season that traditionally has the most deaths, for the first time in the five years that 12-month mortality has been tracked.
Beekeepers lost 27.4 percent of their hives from April 2014 through September, up from 19.8 percent the previous year, according to the survey. Losses from October through March fell to 23.1 percent from 23.7 percent.
"We're a little frustrated that we've stabilized our winter losses only to see mortality go up in the summer," vanEngelsdorp said.
Total losses for the full year were reported at 42.1 percent. The half-year components add up to more than the annual figure because the data includes hives that replaced lost colonies during the survey period, vanEngelsdorp said.
Two years ago, the survey found a record 45 percent of keepers' bees died.
Varroa Mite
A rise in varroa mite, a longtime scourge of beehives, played a leading role in higher losses from smaller beekeepers, the survey found.
Among larger commercial beekeepers, causes are less clear, vanEngelsdorp said. Losses topped 60 percent in Iowa and Illinois, where large fields of corn and soybeans give bees less habitat for foraging. Pesticides also may be playing a role in greater year-round losses, as cumulative exposure to a variety of chemicals may make bees less resistant to other stresses, he said.
Honeybees pollinating plants from apricots to zucchini help to increase crop values by $15 billion a year, according to the USDA.
Environmental groups are focusing on restricting chemicals known as neonicotinoids as possible bee-killers. The pesticides, made by companies including Syngenta AG, Valent USA Corp. and Arysta Lifescience Ltd., are under a two-year ban in the European Union for possible links to bee deaths. A White House task force on pollinators that includes the USDA, Environmental Protection Agency and other departments is planning to release a report on bee health in coming weeks.
Pesticide Exposure
"Beekeepers have been able to keep mites in check over the winter, while the problems with pesticides, made worse by lack of healthy forage, are the leading driver of bee declines throughout the year," Emily Marquez, a staff scientist with the Pesticide Action Network, a Sacramento, California-based advocate for more regulation, said in a statement.
While pesticide residues may be a factor in weakening bees, it is far from the main reason for losses, said Dick Rogers, an entomologist with Bayer in Raleigh, North Carolina.
Bee mortality has risen as viruses and pests have proliferated, Rogers said. "The obvious, high-impact things are problems with mites and viruses you see in the hives," he said. "The good news is, beekeepers are doing a good job of managing their colonies."
Companies from Hershey Co., maker of Almond Joy candy bars, to Burt's Bees lip-balm producer Clorox Co., rely on pollinated crops. More than half the nation's commercial bees are needed to pollinate one crop: the $6.5 billion annual harvest of almonds, the nation's most lucrative nut.
Before it's here, it's on the Bloomberg Terminal.
LEARN MORE