business
Modi in China: India PM Hopes for No Xi Surprise
Natalie Obiko Pearson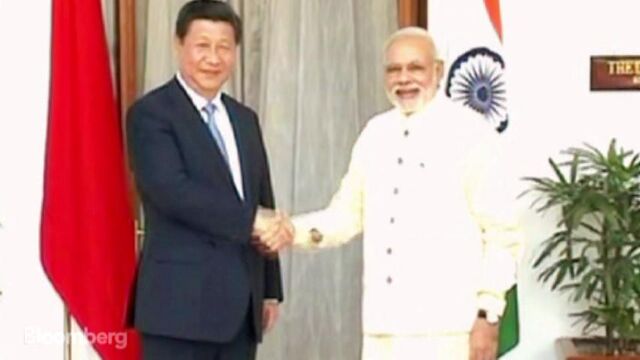 Around the time Indian leader Narendra Modi hosted a lavish, riverfront dinner for Xi Jinping last year, about a thousand miles away Chinese troops moved into a disputed zone along their ill-defined Himalayan border.
It was the most serious incursion in years, and overshadowed a meeting designed to boost economic ties between the world's two most populous countries. And it will be on Modi's mind as he visits China and travels to the home province of Xi, who is president and leads the armed forces.
"I suspect that Modi's view of China has been quite deeply colored by the embarrassment of what happened in September," said Rory Medcalf, head of the National Security College at the Australian National University in Canberra. "The best that can be hoped for from this visit is a renewed focus on co-existence rather than competition. There'll be limited cooperation on some issues. There'll be fundamental trust on none."
Publicly, Xi and Modi are likely to build upon earlier pledges for $20 billion of Chinese investment in Indian railways, pharmaceuticals and industrial parks. Behind the scenes, strategic concerns will be paramount even as India seeks to boost economic ties with its single-biggest trading partner.
Submarines, Pakistan
In the months after the border incident, frictions have risen. In March, a deep-sea Chinese submersible completed an expedition in the southwest Indian Ocean exploring for copper, zinc, lead and precious metals, stoking tensions about Beijing's growing role in waters India has traditionally dominated. That came after China deployed a nuclear-powered submarine to patrol the Indian Ocean for the first time last year, while a diesel-powered one docked twice in Sri Lanka.

China is also pushing ahead with a $45 billion, 3,000-kilometer (1,900 mile) economic corridor through Pakistan -- India's nuclear-armed arch rival -- to link its western region to a port it built on the Arabian Sea.
India, meanwhile, in January joined the U.S. in calling for stability in the South China Sea, eliciting a sharp response from Beijing to butt out. Modi also upgraded India's strategic partnership with Japan, which topped China with $35 billion of promised investments, and strengthened his country's navy.
"Effectively, India picked sides," said Shashank Joshi, senior research fellow at the Royal United Services Institute in London. "China will want to keep India as a more neutral figure."
Border Standoff
Though an outright confrontation is unlikely, the two nations are headed into a period of pricklier diplomacy and potentially greater military uncertainty.
The September standoff began when Chinese troops advanced several kilometers into northern Ladakh, an area of strategic importance nestled between Tibet and Pakistan, and lasted almost two weeks. It caught India officials off guard, and at the end of Xi's three-day visit, Modi told a press conference that the border issue needs to be resolved.
Chinese Foreign Ministry Spokeswoman Hua Chunying told reporters on Wednesday that both sides have shown "great willingness" to settle the boundary dispute and negotiations have "made headway."
The incident raised questions about Xi's control over the army and the risk of rogue Chinese commanders sparking a provocation, said Gordon C. Chang, who worked as a lawyer in China and Hong Kong for nearly two decades and authored a book on China. Upon returning from India, Xi demanded the military's "absolute loyalty" to the Communist Party and a "smooth chain of command," Xinhua reported, citing a meeting with the chiefs of staff of the People's Liberation Army.
'Remain Troubled'
"It's not clear anyone in Beijing, including Xi, has the power to strike a deal with India and, more importantly, to make that deal stick," Chang said. "It means China-India relations will certainly remain troubled."
Modi arrived in Shaanxi province on Thursday, where he was greeted by red-robed monks at a Buddhist temple. He also saw a collection of terracotta warriors dating back to China's first emperor. He meets Chinese Premier Li Keqiang in Beijing on Friday. On Saturday, he will meet Chinese business leaders in Shanghai. After that, he will visit Mongolia and South Korea.
Modi and Xi are holding their summit in Xi'an, an ancient imperial capital in China's northwest that was the eastern departure point of the Silk Road. Xi seeks to resurrect the trade route linking his nation to Europe and is bankrolling the project with a $40 billion infrastructure fund, which has made India apprehensive.
The border disputes won't derail other types of cooperation between India and China, said Shen Dingli, associate dean of the Institute of International Studies at Fudan University, which Modi will visit to open a new Gandhi center.
Trade
"We are pragmatic," Shen said. "India is big. It has more needs. America, Australia, Japan and China -- we can all compete to provide."
While two-way commerce between the Asian giants exceeded $75 billion last year, India posted a trade shortfall of $42 billion on imports of heavy machinery, telecom equipment and home appliances, according to data compiled by Bloomberg. That's India's biggest trade deficit with any country.
Overcoming mistrust about the border will be key to friendlier ties overall. The nations fought a war in 1962 and have seen sporadic border clashes over five decades.
India accuses China of occupying 38,000 square kilometers in Jammu and Kashmir, while Beijing lays claim to 90,000 square kilometers of land in the Indian state of Arunachal Pradesh -- leaving a total area in dispute roughly the size of England.
"If you aggregate all these factors, you have quite a difficult geopolitical context for the two countries to navigate," Medcalf said. "One visit isn't going to change that picture."
(Updates with Modi, Xi meeting in third paragraph below subhead Remain Troubled.)
Before it's here, it's on the Bloomberg Terminal.
LEARN MORE