markets
Will China Join Global Currency War? Pimco Doesn't Think So
Fion Li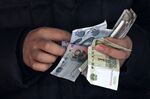 China is unlikely to engineer a competitive devaluation of the yuan as it seeks reserve currency status, according to Pacific Investment Management Co.
A sharp drop in the currency would also hinder government efforts to transform Asia's largest economy into one that's driven more by consumption rather than exports, Isaac Meng, a portfolio manager at Pimco in Hong Kong, wrote in a research note released Wednesday.
People's Bank of China officials have called on the International Monetary Fund to add the yuan to its basket of reserve currencies in a review later this year. The yuan failed to join the dollar, euro, pound and yen at the last review in 2010 as it wasn't deemed to be "freely usable" in trade and finance. The maintenance of a stable exchange rate may bolster its chances this time.
China's economy will probably miss its 7 percent expansion target this year, Meng said. The PBOC cut benchmark interest rates on Sunday for the third time in six months following a week in which a raft of reports from manufacturing to trade trailed estimates. There's still room for more easing, the China Securities Journal said in a front-page commentary Monday.
"We expect more intensified easing to follow, including potential balance-sheet expansion," Meng said in the note. "China is dealing with a property slowdown and deleveraging of the shadow banking system, and can no longer rely on low wages and a competitive currency to support an endless export boom."
'Favorable View'
Pimco, which oversaw $1.59 trillion of assets globally at the end of March, sees value in buying Chinese government bonds, as well as quasi-sovereign and bank debt, Luke Spajic, a Singapore-based portfolio manager, said in the same note. It has a "favorable view" on Chinese equities, he said.
The Shanghai Composite Index of shares surged 36 percent this year, while China's local-currency sovereign notes rose 3.5 percent, a Bloomberg index shows. The yuan strengthened 0.04 percent to 6.2067 a dollar as of 11.:01 a.m. in Shanghai on Wednesday, extending its three-month advance to 0.55 percent.
The fund-management company aims to start directly investing in eligible equities in the Chinese onshore market through a stock link between Hong Kong and Shanghai in the near future, Eric Mogelof, Pimco's Hong Kong-based head for Asia Pacific, said in the note.
(Updates prices in sixth paragraph.)
Before it's here, it's on the Bloomberg Terminal.
LEARN MORE