Vivendi Bids $550 Million for Canal Plus in Media Makeover
Amy Thomson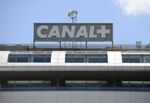 Vivendi SA reported first-quarter profit that topped analysts' estimates and offered to buy out the French unit of its Canal Plus broadcaster for $550 million as Chairman Vincent Bollore hunts for media acquisitions.
Vivendi reported a 24 percent increase in net income to 136 million euros ($153 million) excluding some items. Revenue gained 7.5 percent to 2.49 billion euros. Analysts projected 124 million euros in profit on sales of 2.41 billion euros, according to data compiled by Bloomberg.
Vivendi's strategic committee met on Tuesday to discuss an approach to acquisitions after divesting more than $30 billion in assets to refocus the business on pay-TV and the music industries. The better-than-estimated results show that the company's turnaround plan is working, said Arnaud de Puyfontaine, executive vice president of media and content.
"All these operations show that Vivendi's transformation to a media and entertainment company is on track," de Puyfontaine said on a call with analysts. "Vivendi has a clear strategic direction, financial resources and time to make it successful."
Vivendi shares rose 2 percent 22.81 euros at 9:15 a.m. in Paris. The stock has gained about 8 percent this year. Canal Plus jumped 19 percent to 7.60 euros for a market value of 963 million euros.
Canal Plus, Spotify
Revenue at Vivendi's Universal Music Group rose 2.3 percent to 1.1 billion euros, excluding a gain from currency and deals, helped by popular releases like the "Fifty Shades of Grey" soundtrack and new albums from Taylor Swift and Sam Smith.
The Canal Plus Group's sales increased 2.5 percent, excluding currency swings and other items, to 1.37 billion euros, driven by popular movies like "Paddington," "Imitation Game" and "Shaun the Sheep."
Vivendi's supervisory board authorized a public tender for shares in Societe d'Edition de Canal Plus at 7.60 euros each. Vivendi already owns about 49 percent of the Paris-listed unit, which operates the Canal Plus channels. It's separate from other Canal Plus assets such as StudioCanal and the overseas business.
Vivendi had also previously agreed to buy Internet-video service Dailymotion and Bollore said last month the company is looking for more assets.
The company also said it's in talks with streaming music service Spotify Ltd., for which Vivendi provides songs. The company declined to comment on the nature of the talks. Streaming music subscriptions are becoming increasingly popular as the number of downloaded songs and sales of CDs decline, Vivendi said Tuesday.
Asset Sales
Most of the asset sales came from Vivendi's telecommunications holdings, including a stake in Maroc Telecom and French mobile carrier SFR, which was hit by a price war after once having accounted for half of the group's profits. Vivendi also agreed to sell its Brazilian broadband business GVT to Telefonica SA, and divested stakes in video-game company Activision Blizzard Inc. and Apple Inc.'s Beats music service.
De Puyfontaine said Vivendi would be "opportunistic" about its stake in Telecom Italia SpA. Vivendi is getting an 8.3 percent holding in the Italian phone company as part of its sale of GVT.
Vivendi may make an investment in Italian broadcaster Mediaset SpA involving Telecom Italia, people familiar with the matter said last month.
Vivendi said on Tuesday it expects the GVT deal to close by the end of May and Dailymotion to wrap up in the coming weeks.