Putin May Have 10,000 Troops in E. Ukraine, Opposition Says
Ilya Arkhipov, Henry Meyer and Stephen Bierman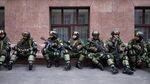 Russia has 8,000 to 10,000 soldiers in eastern Ukraine as the numbers swelled this year amid denials from President Vladimir Putin, according to a report compiled by slain opposition leader Boris Nemtsov.
Including the Russian army, rebel troop numbers have reached as many as 37,000, and the government in Moscow has spent 53 billion rubles ($1 billion) in military support for the pro-Russian insurgency in Ukraine, according to the report released by opposition activist Ilya Yashin. He and his colleagues completed the research following Nemtsov's Feb. 27 murder in central Moscow.
"Neither Putin nor any of his generals have the courage to admit the fact of military aggression against Ukraine," they said in the report, estimating that at least 220 Russian soldiers have been killed in Ukraine. "Shallow lies and hypocrisy are being passed off as great political wisdom."
U.S. officials say the insurgents have been using a lull in fighting since a February truce to prepare for a possible new offensive. Putin has repeatedly rejected U.S. and European accusations that he's aiding rebels in Ukraine's easternmost regions with military personnel and equipment.
The conflict that erupted more than a year ago has claimed at least 6,100 lives and chilled the Kremlin's relations with Cold War-era foes to the worst since the fall of the Iron Curtain a quarter century ago. It also prompted the U.S. and its allies to introduce sanctions against Russia, helping push the country's economy toward recession.
Camps, Tanks
Russian soldiers were sent to Ukraine with humanitarian aid convoys, according to the report. Russia has camps for combatants on its territory, tanks are regularly moving toward the border and separatist leaders coordinate their actions with the Kremlin, it said.
So-called volunteers, who are paid as much as 90,000 rubles a month for an ordinary soldier, are recruited via conscription offices and veterans' associations, according to the report. There is "more than sufficient" evidence that Russia has been supplying weapons to the rebels, including tanks, Tornado-S missile systems and Pantsir-S air defense systems, it says.
The purpose of the insurgency will be to turn the rebel republics in Ukraine's Donetsk and Luhansk regions into proxy states that can be used as levers to destabilize Russia's western neighbor, according to the report.
Dead Bodies
Russia will pay for the war "with the lives of our soldiers, an economic crisis and political isolation," according to the report.
"All this is causing colossal damage to Russia's national interests," Yashin told a news conference in Moscow on Tuesday.
The investigation, which involved talking with relatives of deceased servicemen, showed two peak periods in which bodies of dead Russian soldiers were transported back to the country.
The first was in mid-2014, when about 150 bodies were returned to Russia during heavy fighting in Ukraine as rebel forces turned back a government offensive. The second wave took place in January and February, when about 70 bodies were sent back during a period that coincided with the battle for the strategic town of Debaltseve.
Nemtsov, a former deputy prime minister in the 1990s and an outspoken critic of Putin, talked about the report before he was shot dead on a bridge near the Kremlin. His murder has left Russia's pro-democracy movement reeling, with opposition leader Alexey Navalny fighting legal battles and other anti-Putin figures having left the country.
Nemtsov's allies accused Putin of stirring up an atmosphere of hatred in which critics are vilified on state television to fan patriotic fervor over the annexation of Crimea from Ukraine a year ago.
Putin condemned Nemtsov's slaying, for which the former deputy head of Chechen strongman Ramzan Kadyrov's elite police unit has been detained as the main suspect.
For more, read this QuickTake: Standoff in Ukraine