Obama Says Hedge Fund Managers Are 'Society's Lottery Winners'
Angela Greiling Keane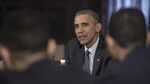 The U.S. won't put a dent into poverty and income inequity unless Democrats and Republicans can agree to raise taxes on top earners like hedge-fund and private equity managers, President Barack Obama said Tuesday.
Obama, whose longstanding proposal to raise taxes on what is known as carried interest has gained little traction in Congress, said fairness demands that the nation's wealthiest pitch in as more and more Americans are falling behind.
"If I were able to close that loophole, I'd be able to invest in early childhood education," Obama said at a poverty summit at Georgetown University in Washington. "If we can't ask from society's lottery winners to make that modest investment, then really this conversation is for show."
Obama's off-the-cuff remarks came during a discussion in which he said the U.S. has a chance to confront poverty as politicians from both parties, including 2016 presidential candidates, are converging on issues of income inequality and opportunity. He offered no new remedies.
The president has often said the wealthiest Americans must make sacrifices to better life for poorer people. In addition to urging higher taxes for investment managers on Tuesday, he questioned whether the pay of some corporate chief executives is justified.
Social Constraints
"A previous CEO of a company might have made 50 times the average wage of a worker," Obama said. "They might now make 1,000 times or 2,000 times, and that's accepted practice inside the corporate boardroom. That's not because they're bad people. That's because they've been freed from a certain set of social constraints."
Obama has said he hopes the 2016 campaign to succeed him as president sparks discussion and action on income inequality, which has grown in the U.S. during his presidency, and on dealing with conflicts tied to race, two issues that he said were related but distinct.
"It is a mistake for us to suggest that somehow every effort we make has failed and we are powerless to address poverty," Obama said.
The protests and riots in U.S. cities following the deaths of black men at the hands of police have galvanized the public, who hold political leaders to account for the strife, James Rosenbaum, a sociologist at Northwestern University who studies poverty and inequality, said in a phone interview.
Public Pressure
While Democrats and Republicans differ on how to alleviate poverty, growing public pressure could force compromise on issues including education funding and job training, he said.
"The past few years of gridlock have really soured the public's views of both parties," he said. "In order to show that they're able to show leadership and make a difference, they really need to make a constituted effort to address this."
Obama made his remarks at a poverty summit at Georgetown, where he appeared with Harvard University public policy professor Robert Putnam, who has briefed Republicans and Democrats on his new book, Our Kids: The American Dream in Crisis. Also on the panel was Arthur Brooks, the president of the nonprofit American Enterprise Institute.
U.S. history suggests optimism that a newfound focus on haves and have-nots can lead to less economic inequality, Putnam said.
"This is the kind of problem Americans have faced before and have solved," he said, citing the Gilded Age at the end of the 1800s. "There was a great gap between rich and poor and we were ignoring a lot of kids."
Bipartisan Focus
While concern about income inequality has largely been associated with Democrats, some of the Republicans in the 2016 campaign are raising the issue, including former Florida Governor Jeb Bush and Kentucky Senator Rand Paul.
Ron Haskins, a former Republican congressional aide who was instrumental in the 1996 overhaul of the federal welfare program, said that years of enmity and mistrust between Obama and the Republican-led Congress probably precludes any major anti-poverty initiatives before the 2016 elections.
He's more optimistic about the next administration, as both Republican and Democrats running to succeed Obama have made poverty a central theme of the campaign.
"There's way more discussion already -- especially among Republicans," he said.
On the Democratic side, upstart candidate Bernie Sanders, a Vermont senator, is challenging former secretary of state Hillary Clinton to focus more on poverty, as is Massachusetts Senator Elizabeth Warren, who commands a following among the party's liberal wing.
Warren joined with with New York Mayor Bill de Blasio and economist Joseph Stiglitz, who popularized the term "the 1 percent," at a separate event in Washington on Tuesday.
Stiglitz said Obama doesn't understand the wealth gap. Stiglitz released a report calling for changes to U.S. rules in an effort to reduce income disparities.
"I don't think he understands what's happened in the last third of a century in terms of the growth of inequality," Stiglitz said.
Georgetown's Catholic-Evangelical Leadership Summit on Overcoming Poverty is a three-day event where Senator Tim Scott, a South Carolina Republican, also spoke.