Marco Rubio's Foreign Policy Evolution From Moderate to Ultra-Hawk
The shift dovetailed his rehabilitation with conservatives after he was punished for backing immigration reform.
By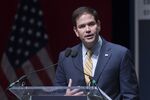 In May 2012, Senator Marco Rubio gave a speech to the Council on Foreign Relations in New York outlining a humble foreign policy. "I don't want to come across as some sort of saber-rattling person," he said, "because I'm not."
Three years later, the Florida Republican will return Wednesday to the venue for the first major foreign policy speech of his presidential campaign, where he is expected to complete a dramatic shift from moderate to ultra-hawk.
The evolution began early in 2014 as Rubio was working to repair his standing with the Republican base for supporting immigration reform. Within a year and a half, he was publicly taunting America's enemies in South Carolina, quoting Liam Neeson's character in the action film Taken: "We will look for you, we will find you, and we will kill you," he boasted.
The shift has materialized in rhetoric as well as policy. Back in 2013, the senator opposed an increase in military funding without spending cuts to other programs; this spring, however, he proposed a budget amendment to boost defense spending without any corresponding cuts.
'Strikingly nonpartisan' on foreign policy
Rewind to April 2012, when Rubio was being vetted by Mitt Romney as a possible running mate. In an April 25 speech at the Brookings Institution, Rubio articulated what Foreign Policy magazine described as "strikingly nonpartisan" views that could have been an attempt to "attract moderate voters turned off by the often-bellicose rhetoric of the Republican primary." Rubio had no criticisms of President Barack Obama and instead aligned with him on military action in Libya and Syria. He defended U.S. humanitarian aid, backed negotiations with Iran, and described military force as a last-ditch option.
"Preferably, we can succeed through coercive means short of military force. We should be open to negotiations with Iran," Rubio said, adding that "if all else fails, preventing a nuclear Iran may tragically require a military solution." The Washington Post noted that "many of his policy prescriptions appeared to coincide with those of the administration, with the admonition to do more."
That May, Rubio gave another speech, at CFR, in which he declared, "I am aligning with what the administration has said" on Iran. On some issues, he broke with Romney, as when declined to label China a currency manipulator. "I agree with Obama on that one," he said just weeks before the election. This posture continued into 2013. In February, Rubio articulated what Time described as "moderate policies that don't differ too much from those of President Obama."
By the fall of 2013, after Rubio had abandoned his own immigration bill following painful blows from the right, Rubio sharpened his critique of the Obama-Hillary Clinton foreign policy—though his barbs were less about substance than messaging. "This administration has never made a compelling case to the American people as to why we should care about places like Syria," he told The Daily Beast that November, chastising the "lack of leadership and divisive nature of this administration."
Rubio has consistently played up the value of U.S. engagement with the world in advancing human rights and secular democracy. But as of late 2013, he strayed from the rhetorical and policy approach of Republican hawks like Arizona Senator John McCain in stressing diplomacy over military force and expressing skepticism toward defense spending hikes.
A hawk is born
A few months later, Rubio seemed to be a changed man.
When Vladimir Putin invaded Crimea in February 2014, the Floridian positioned himself as a leading proponent of a more confrontational U.S. posture toward Russia. In a pair of March op-eds, he demanded a swift end to all discussions and trade with the country, calling for harsh domestic and international measures to punish and isolate Russia.
"The president must now accept that the only way to deal with tyrants like Vladimir Putin is with a clear understanding that they can't be trusted and that only decisive action will deter their provocative moves," he wrote.
The hawkish persona steadily grew, particularly after the Islamic State's gruesome murder of photojournalist James Foley in the summer. In September 2014, Rubio blamed Obama and Hillary Clinton for fueling the rise of the militant group with a "global retreat" in U.S. leadership, aided at times by "[m]embers of my own Republican Party."
In what would become one of his favorite talking points, Rubio assailed Obama's "abandonment of America's traditional allies in an effort to placate America's enemies." No longer a proponent of military restraint, he went on to insist on authorizing force against the Islamic State without any limitations, including sending U.S. troops.
The fraught relationship between Obama and Israeli Prime Minister Benjamin Netanyahu gave Rubio more openings. In October, he assailed as "deplorable" the Obama administration's criticism of Israel for building settlements in Jerusalem, calling it "another case of President Obama's bizarre logic of tearing down our closest partners while building up those who do not share our values." Those attacks have since grown more aggressive.
Where he once supported negotiations with Iran, Rubio is now working to scuttle Obama's nuclear deal with Iran, telling the Associated Press in March he'd "absolutely" be willing to defy European allies and revoke the accord if elected president. He also took a hard line against Obama's move to loosen the embargo on Cuba, the country his parents emigrated from, calling the president "willfully ignorant" and the "worst negotiator" of any commander-in-chief during his lifetime.
Rubio's full-throated embrace of a bellicose foreign policy may have helped his rehabilitation with the Republican base, and distinguished the young member of the Senate Foreign Relations Committee from his rivals. Most recent polls place Rubio in the top three with former Florida Governor Jeb Bush and Wisconsin Governor Scott Walker, who the senator can argue haven't made any foreign policy decisions. The shift has also endeared him to mega-donors like Sheldon Adelson and neoconservatives like Bill Kristol.
"It's Republicans who seem to have an appetite for someone new and different. So, we're ready for Marco," Kristol said recently on ABC. "I'm ready for Marco."