How David Boies Became the Best Friend and Worst Enemy of Big Business
By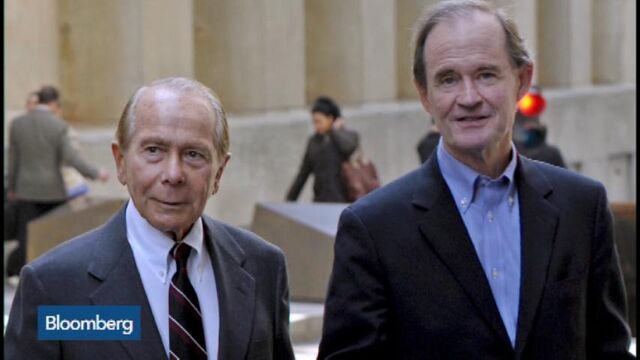 On April 22, David Boies made his closing argument on behalf of Maurice Greenberg, the insurance magnate suing the U.S. government for as much as $40 billion in damages stemming from the September 2008 bailout of Greenberg's faltering former company, American International Group. AIG's soured bets on the housing market had led the insurer to the precipice of insolvency, which might have set off a global depression. In return for an emergency $85 billion loan, AIG's board agreed to turn over 80 percent of the company's equity to the government. But Greenberg and fellow shareholders never had a chance to vote on the rescue—which, Boies told Judge Thomas Wheeler of the U.S. Court of Federal Claims in Washington, contributed to an unconstitutional abuse of AIG shareholders.
Given the urgency of AIG's imminent failure, Judge Wheeler asked, couldn't the board act on shareholders' behalf?
No, Boies responded. He reminded Wheeler of internal memos produced earlier in the trial that showed members of the AIG board deliberately cutting Greenberg out of the decision to accept the government's terms. The reason? He was represented by David Boies. "They say, 'Mr. Greenberg has hired this high-profile lawyer, David Boies, and he's going to try to undo this … and we've got to stop that by preventing a shareholder vote.' "
Few attorneys would have the chutzpah to weave that kind of self-promotional aside into such a high-stakes court appearance—and even fewer could plausibly claim to have earned the right. For three decades—at least since a June 1986 New York Times Sunday Magazine cover story anointed him "The Wall Street Lawyer Everyone Wants"—Boies has reigned as the country's premier litigator. His clients range from DuPont and Philip Morris to the New York Yankees and Sony Pictures; from Calvin Klein and Don Imus to Tina Brown and Harvey Weinstein. When he argued the Bush v. Gore Supreme Court case that decided the 2000 presidential election, Boies became, even in defeat, a liberal hero. Thirteen years later he helped engineer a major high court victory for same-sex marriage. Theodore Olson, Boies's opponent in Bush v. Gore and unlikely conservative ally on gay unions, says, "In his range and brilliance on his feet, David has no equal."

Less noted is Boies's success as an entrepreneur. In 1997 he spurned a gold-plated partnership at the archetypal corporate law firm, Cravath, Swaine & Moore, to start what he called "a country law office" near his Georgian-style mansion in Westchester County north of New York City. That outpost has morphed into a 285-attorney powerhouse remarkable for its revenue ($345 million last year), average profit per equity partner ($3 million), and sheer ubiquity. Unlike most corporate law firms, which focus on defending Big Business, Boies, Schiller & Flexner juggles a rare combination of corporate defense assignments and plaintiffs work. Currently the firm is representing terrorism survivors suing the Bank of China for allegedly catering to Islamic militants, even as other BS&F bank clients, HSBC and Barclays, are facing similar terrorism-liability claims in a separate case. All of the banks deny wrongdoing. In Florida, BS&F is leading a massive consumer class action on behalf of car buyers allegedly harmed by defective air bags while simultaneously defending tobacco companies against smokers' injury claims.
Boies, 74, advertises his long history of working both sides of the courtroom as a selling point to clients. "You hire the Boies Schiller firm in part because they know how both sides think," says Richard Baer, general counsel of Liberty Media. At a previous employer, Qwest Communications International, Baer brought in a team headed by Boies partner Jonathan Schiller to defend against a mid-2000s wave of securities-fraud suits. "You look past the fact that in separate matters they're going to represent the sort of parties who are your foes."
A merry mercenary, Boies has created a unique partnership built on profitability, flashy ambition, a dash of public service, and old-time family solidarity. The lawyer roster at the firm includes not only his wife, but also one of his ex-wives. At various times, most of his six children have worked there, too. Were he to depart, would the show go on? "When you walk off that stage," says Boies client and friend Greenberg, 90, "you never know what's going to happen, how the No. 2 and No. 3 will perform."
Greenberg credits Boies with defying skeptics who predicted an early dismissal of his AIG-bailout suit. Judge Wheeler is expected to rule in coming weeks, and the outcome is considered a toss-up. Boies "is grooming some awfully talented guys" at his law firm, Greenberg says, "but whether they are future David Boieses—that's another question."
Boies sits for interviews at expensive restaurants where he's greeted by name. One Sunday evening in New York, it's Cipriani on Fifth Avenue at 59th Street—convenient because he keeps an apartment in the adjacent Sherry-Netherland Hotel. On other occasions, it's the Four Seasons, where for lunch he summons a large plate of pigs in blankets and no entree. At cocktail hour his screwdriver arrives, unbidden, with an extra glass of orange juice.

Lean and vigorous, Boies radiates confidence without pretension. He smiles a lot, but not in a weird Jimmy Carter way. He flatters. "Reporters find the holes in the arguments," he says. Countless laudatory profiles have tallied his endearing quirks: the inexpensive, ill-fitting blue suits, the plastic watch he straps on over his sleeve, the intensity of preparation he uses to overcome his lifelong dyslexia.
Writing about BS&F, it's impossible to resist the gravitational pull of the Boies persona, and it would be a mistake to try. Boies created the firm after his abrupt resignation from Cravath in 1997. Publicly, he and Cravath attributed their split to his loyalty to George Steinbrenner, a Boies client. The late New York Yankees owner was feuding with the rest of Major League Baseball, including the Atlanta Braves, a property of Time Warner, one of Cravath's anchor clients. The conflict was real, but there was more going on. Privately, some Cravath partners objected to a range of Boies's professional choices.
In one case, he'd allied himself with legendary Texas plaintiffs' attorney Joe Jamail against American Airlines, the sort of corporation Cravath normally defended. In another instance, Boies represented, free of charge, a Florida businesswoman in a lurid child-custody battle against her ex-husband, a Guatemalan textile baron. "We represent plenty of people pro bono, in discrimination cases and death penalty cases, for example," Cravath's then presiding partner, Samuel Butler, told me for a May 1997 Wall Street Journal article, "but wives of Guatemalan tycoons are not exactly what we have in mind." Addressing the child-custody fracas in his 2004 memoir, Courting Justice, Boies quoted himself as saying: "Once I take a case, I'm stuck with it."
Soon after striking out on his own, Boies turned to a lawsuit in the late 1990s that Cravath never would have taken: the Department of Justice's attempt to prove that Microsoft illegally monopolized the market for personal-computer software. Needing more manpower, Boies showed impressive skill as a talent scout. He mixed brainy former Cravath associates with proven big-firm revenue generators such as Schiller, a gregarious former college basketball player who came over from Kaye Scholer, a large New York-based partnership. A decade earlier, one of Schiller's clients, Westinghouse, told him it wanted to hire the better-known Boies for a nuclear power dispute. "Oh, f---," Schiller recalls thinking, "the great David Boies." Boies proved himself a mensch, inviting the younger attorney to stay on the Westinghouse team. Filling out the new Boies shingle, Donald Flexner, a business-getter at Washington-based Crowell & Moring, brought with him such clients as Alcoa, CSX Transportation, and United Technologies.
In May 1998, Boies filed his antitrust suit against Microsoft. It was unusual for the lawyer-rich Justice Department to bring in a ringer—especially Boies, who at Cravath had helped thwart federal prosecutors in a long-running antitrust suit against IBM. Now attacking corporate gigantism, Boies displayed his talent for tempting opponents into trying to outsmart him. In videotaped depositions, he asked Microsoft co-founder Bill Gates about the company's campaign to crush Netscape, provider of a rival browser. Boies showed Gates a document sent to the executive by a subordinate that said, "We need to continue our jihad next year."

"It doesn't say 'Microsoft,' " Gates objected.
"Well," Boies said, "when it says 'we' there, do you understand that means something other than Microsoft, sir?" Gates's evasiveness became so obvious that when the depositions were shown in court in November 1998, U.S. District Judge Thomas Jackson chuckled and declared: "Mr. Gates has not been particularly responsive." In 2000, Jackson ordered Microsoft broken into separate companies, one to produce its PC operating system and a second to make other software. An appellate court later rejected Jackson's remedy, and the business-friendly George W. Bush administration settled the case on terms favorable to Microsoft. None of that obscured Boies's memorable skewering of Gates.
Meanwhile, a next generation of BS&F partners established itself. William Isaacson, a young partner Schiller brought with him from Kaye Scholer, helped lead a sweeping class action against vitamin manufacturers that allegedly engaged in illegal price fixing and market allocation. By late 1999 the firm had forged a $1.05 billion settlement involving Roche, Rhône-Poulenc, and other companies sued by businesses that use vitamins in their products. The recovery, which included $123 million in attorneys' fees, was the largest ever in a private class-action antitrust case.
Working from BS&F's Washington office, Isaacson, 55, has become a preeminent class-action switch hitter. Last year he successfully represented basketball and football players who challenged the National Collegiate Athletic Association ban on universities' sharing sports video game and other licensing fees with athletes, but also helped Apple defeat a $1 billion class action filed by consumers claiming that iTunes restrictions suppressed competition among music devices.
Stuart Alderoty, currently general counsel of HSBC North America, has employed BS&F since 2002. Then chief litigation counsel at American Express, he was given the task of leading a suit against MasterCard and Visa for allegedly colluding to stop banks from issuing AmEx cards. Alderoty interviewed a number of leading firms and eventually asked Flexner, a former head of the Justice Department's antitrust division, to propose a strategy. Flexner brought Boies to the meeting, and without PowerPoint, whiteboard, or notes, the two attorneys outlined a plan that would target as defendants not just credit card rivals but also major banks that were member-owners of Visa and MasterCard. The approach hadn't occurred to Alderoty, because it would involve suing banks that AmEx wanted as marketing partners. He was convinced, however, that alleging a conspiracy that went beyond the card networks to encompass financial institutions would exert more leverage. Sure enough, in 2007 and 2008, BS&F obtained settlements from MasterCard and Visa totaling more than $4 billion, a record for a single-plaintiff antitrust case.
Alderoty has since retained the firm to defend HSBC in a variety of complex cases. "We're represented by a number of excellent firms," he says. "The Boies firm brings unique benefits, particularly insights from its experience litigating both as plaintiff and defendant, and the credible threat of taking a case to trial, even as a defendant."
BS&F doesn't always win. Earlier this year, a federal judge in New York ruled that it was AmEx, again represented by Flexner, that violated antitrust law when it sought to bar retail businesses from asking customers to use lower-cost card competitors. The Justice Department didn't seek money damages, but if upheld on appeal, the verdict would put merchants in a stronger position vis-à-vis AmEx. "We're going to keep fighting," Flexner says.
The instinct to fight on sometimes gets BS&F in trouble. In March the federal appeals court in New York upheld a judge's imposition of a $270,000 sanction against the firm for representing a plaintiff suing Host Hotels & Resorts, despite having previously represented Host in a related matter. Host's general counsel, Elizabeth Abdoo, decried BS&F's "failure to fulfill its most basic ethical obligation to Host in connection with the firm's prior work on one of the most important issues in our company's history."
The imbroglio developed after BS&F filed suit in 2013 on behalf of hotel owner Madison 92nd Street Associates against Host and Marriott International. Madison accused the defendants of conspiring with a labor union to squeeze Madison out of the New York market. Host objected that, years earlier, BS&F represented Host in a related dispute. The prior relationship gave the firm access to confidential information that theoretically could be used against Host in the 2013 suit. "A clearer conflict of interest cannot be imagined," U.S. District Judge Colleen McMahon said in her ruling instructing BS&F to reimburse Host for legal fees. "This is not ethical rocket science."

Boies says the firm acted based on advice from an outside legal-ethics counsel. The oversight occurred, in part, because lawyers involved in the earlier Host representation had left the firm, he adds.
BS&F isn't immune to the pecuniary obsessiveness that infects Big Law, but it manages the symptoms better than most. Befitting its modest head count, the firm appears toward the bottom of American Lawyer's Am Law 100 revenue ranking, but when it comes to average profit per equity partner, it's consistently in the top 15.
BS&F's history of winning high-stakes cases allows it to demand substantial upfront "engagement fees" and bonuses. "We take calculated risks that align our interests with those of our clients," Boies says. In October, for example, the firm won a jury verdict in a contingency-fee False Claims Act case in Texas, which, if upheld on appeal, could be worth $575 million or more. BS&F represents Joshua Harman, a Virginia highway guardrail manufacturer who accused a larger rival, Dallas-based Trinity Industries, of misleading federal regulators about product changes that allegedly contributed to crash-victim fatalities. Led by partner Nicholas Gravante Jr., a former Cravath associate, the plaintiffs' team adroitly combined evidence showing that Trinity failed to submit product-change data to federal overseers with riveting photos of the bloody results of highway crashes. Trinity countered—unsuccessfully—that the undisclosed data weren't material and that the photos shouldn't have been relevant to a False Claims Act complaint. Trinity denies any wrongdoing and is appealing.
What makes the triumph remarkable is that the Federal Highway Administration insists it wasn't defrauded and that Trinity's guardrails meet applicable government specifications. "That Mr. Boies and his crew got within 100 miles of this claim suggests they either didn't do their homework or have made a troubling choice to lower their standards considerably," says Darren McKinney, spokesman for the American Tort Reform Association, a corporate trade group. Harman "was motivated not by a desire to protect taxpayers or public safety, but instead by a desire to destroy a competitor and gain a business advantage," McKinney says.
Gravante scoffs at what he calls sour grapes. "If a plaintiff is right, we're pleased to represent that plaintiff against a corporate wrongdoer," he says. On April 21, Bloomberg News reported that the Justice Department had begun a criminal investigation of Trinity's relationship with federal regulators.
BS&F's success begins with the tribal allegiance Boies elicits—that of fellow Cravath refugees, recruits from other elite firms, and members of a Boies clan spanning the founder's three marriages. Four of his six children have worked as lawyers in the firm or closely with it. His youngest, Alexander, 29, is graduating from New York University School of Law this spring and will raise the figure to five out of six.
Boies's wife, Mary McInnis Boies, an antitrust attorney and former senior CBS executive, is a nonpartner counsel to the firm. So is Boies's previous wife, Judith, with whom he fell in love when they were law students at Northwestern University in the early 1960s. At the time, Judith was married to one of their professors. After academic transfers, rearranged marital ties, two kids, and eventually a divorce, Judith and David emerged on amicable terms. Mary and Judith declined to comment for this article.
Operating in the vicinity of the patriarch inevitably means being overshadowed, but there are benefits, too. The elder Boies decided early on that BS&F should have a corporate group to advise clients on mergers and other transactions and that his son Christopher, a Yale Law School graduate with experience as an investment banker, would head it. "No one can keep up with my father. It would be foolish to try," says Chris, 47, who leads a 30-lawyer corporate department. "Chris and his team are our go-to guys," says Leslie Gelber, president of Caithness Energy, a New York-based power-project developer. It doesn't hurt that if a deal were to go sour, Gelber says, father David is on standby.
Boies, Gravante, and the other five members of BS&F's executive committee distribute each year's revenue in part according to a formula that pays attorneys larger bonuses if they've participated in particularly lucrative cases. Associates can benefit alongside top partners. Depending on seniority, associates earned base salaries in 2014 ranging from $174,000 to $282,000. In addition, they collected bonuses of as much as $350,000 apiece, far more than associates can hope for at comparable firms.
Boies has infused his firm with a sense of purpose—winning—if not necessarily a consistent dedication to the commonweal. BS&F partners pursue a variety of pro bono cases, such as one in Florida that last December resulted in a state court ruling that 1.9 million children in the state haven't received adequate medical attention under the Medicaid program.
In the main, though, Boies runs a business, not a charity. The firm's core corporate clients include oil companies (Chevron), chemical manufacturers (DuPont), and cigarette makers (Philip Morris, now known as Altria). Bloomberg LP, owner of this magazine, is a past client. In this regard, at least, BS&F resembles its more conventional rivals.
Asked about defending the tobacco industry, whose products lead to lethal illness, Boies reveals a rare lack of eloquence. He points out that the firm's main office in New York handles mostly business-to-business disputes for tobacco clients, such as antitrust cases, while the Miami office defends product-liability cases pitting ex-smokers against cigarette makers. At a firm whose various branches pool their revenue, however, that distinction seems irrelevant. In 2012, Boies himself argued before the Florida Supreme Court on behalf of cigarette companies seeking to make it more difficult for sick smokers or their survivors to win lawsuits.
More delicate for Boies is that his daughter Caryl, an accomplished trial lawyer and former partner, died in 2010 of lung cancer at the age of 48. She had been a smoker. Asked how he squares this terrible loss with his continuing labors for tobacco, Boies sighs. "I don't think she or I think that Altria or any tobacco company was responsible for her cancer," he says. "She knew and I knew and my son David III, who is a smoker, knows that smoking is harmful to your health." So is alcohol, Boies says, pointing to his drink.
Society would be safer, he continues, if no one manufactured cigarettes or booze and everyone drove at 50 miles an hour. But it's not his job to accomplish those ends, he says. His heart doesn't seem to be in the argument.
Returning to his firm and its legacy, Boies regains momentum. "Once you're a core client," he says, "the filter we apply is whether your position is reasonable and legally responsible." BS&F sometimes rejects potential clients its senior partners find distasteful, he says, but once a company makes the cut—joins the club—it earns absolute loyalty.
That's how BS&F will sustain itself after David Boies, not by filing civil-rights cases or taking on once-in-a-generation government assignments. The post-Boies future for BS&F rests on a foundation of superlative craft and unwavering fidelity, exercised on some occasions for consumers suing a big company, but more often for a company, even a tobacco company, being sued by consumers.
"We're lawyers," says Boies. "We present the arguments, and the court sorts out the merits."
Before it's here, it's on the Bloomberg Terminal.
LEARN MORE