Five Things Everyone Will Be Talking About Today
Get caught up on what is moving this morning
By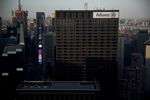 The bond rout deepens, European stocks tank and outflows at Pimco takes a bite out of profit at Allianz. Here are some of the things that people are talking about in the markets this morning.
Global bond rout
The global bond rout spread to Asia overnight.  The yield on the Japanese 10-year bond climbed as much as 8 basis points and the yield on the Australian equivalent surged the most since June 2013. After yesterday's ugly session for U.S. bonds, the Treasury is selling $24 billion worth of 3-year notes later today. Meanwhile, the German 10-year bund has seen its yield rise above 0.70%.
Equities painted red
At the time of writing, stock markets from the FTSE 100 in London to the DAX in Frankfurt are down by over 1.5 percent. The Stoxx Europe 600 Index fell as much as 2 percent earlier in the session, with all 19 industry groups declining. Dow futures are pointing down over 100 points.
Greece taps reserves to pay the IMF
Here's some encouraging news: Greece is going to pay the IMF €750 million as scheduled today. Here's some less encouraging news: according to Kethimerini newspaper, the government used reserves from its IMF holdings account to make the payment.
Pimco outflows bites Allianz
Withdrawals at Pimco's flagship fund exacerbated by the departure of fund manager Bill Gross, cut first-quarter profit from asset management at Allianz by 14 percent.
Kerry heads to Russia
In what is set to be the most high profile meeting of the day, U.S. Secretary of State John Kerry heads for Russia intending to meet with President Vladimir Putin for their first direct talks in two years.