Film
Every Killer Car in Mad Max: Fury Road Explained
Enter the post-Apocalyptic chop shop of quite possibly the most explosive, adrenaline-fueled chase movie ever
By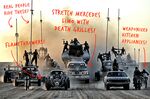 It starts with a high-speed chase into the desert as Max (Tom Hardy) evades a band of white-painted War Boys hunting his Interceptor coupe with the zeal of religious fanatics.
It continues on a manic rant for the next two hours. Watching it feels as if you've been swept up in some tribal gypsy circus intoxicated by sand and sadism. 
Which is to say that Mad Max: Fury Road is everything you want it to be—especially the cars.

Colin Gibson is the man responsible for creating the movie's pantheon of automotive insanity. As in previous movies, cars in this post-Apocalyptic desert wasteland are your weapons and your god. (The last one with Mel Gibson, Mad Max Beyond Thunderdome, came out 30 years ago.) They possess personalities as important as the leather-and-metal-clad maniacs who drive them. This film is one long car chase in a world drunk on "guzzoline." 
Related: The Beauty and Logic of the Million-Dollar Car
As the head production designer and art director, Gibson previously worked with series writer and director George Miller on decidedly lighter fare: Babe. (He also led production for The Adventures of Priscilla, Queen of the Desert.)

That diverse background helped his perspective as he scavenged for car parts in Australia and Namibia—a process that took years after several efforts were postponed because of war-related delays. 
"No one taught me about cars," Gibson tells me via phone. "But I knew I wanted to find things that were beautiful. No matter how horrific the circumstance that doesn't mean you aren't trying to create something beautiful. We just wanted to find something iconic, something worth salvaging."
Related: Every Expensive Thing in Fifty Shades of Grey
Gibson looked for rides without carbon fiber or computer chips—those aren't of much use in desert conditions—and he wanted things with style. "Let's be honest," he says. "Nobody is going to schlep a Camry halfway across the desert." So all the cars in the movie are vintage, which comes as a treat amidst the movie's automotive 'roid rage.
For the main story line, Gibson created 88 final cars, each with its own story and team of mechanics. But all told, he made 150 Frankenbeast vehicles—because when you've got one man with nothing to lose going up against a frothing militia of white-dusted War Boys, you've got to have some to burn.  

"There were cars that would only drive in reverse, and some had to snap in half," Gibson says. Many of the wide-range shots were filmed with helicopters and drones at up to 100 kilometers (62 miles) per hour. All the stunts were real.
"The camera department was terrified," he says. "When you have 80 cars flying at 80-km per hour, occasionally you have some that don't keep up. We destroyed more than half of those in the actual making of the film." 
Related: Drag Racing in Cuba with Havana Motor Club
After all that, Gibson has no injuries to report.
"We had a lot of chapped lips," he says, laughing. "I made the mistake of not putting in windscreens."
Here are the main cars to look for amid the chaos.

Mad Max's Interceptor
Max still drives his black 1974 XB Ford Falcon Coupe made famous in the first films. Without giving away too much, we can say that it gets souped up at the Citadel (the movie's villainous lair, basically) with four-wheel drive and dozens of weapons. It also gets a massive new engine, new chassis, and buffing to a matte silver, thanks to the War Boys.

Furiosa's War Rig
This massive rig is as much of a character in the film as any—so it makes sense that it's driven by the movie's real hero, bionic-armed Imperator Furiosa (Charlize Theron). It's a Czechoslovakian Tatra and Chevy Fleetmaster fused together into a six-wheel-drive 18-wheeler powered with twin V8 engines. It also has a long, bulky fuel tank and a fuel pod trailer hanging off the end. Welded to the hull are Volkswagen Beetle and Track cabin shells that are like mobile forts for the War Boys to hang onto during supply runs and battle missions. The rig also has racks of tools and concealed weapons along its entire body, along with such details as a wirework steering wheel affixed with a skull.
"I don't think there's anything Charlize couldn't do," Gibson says. "She didn't always have to be responsible for driving it, particularly when it was going over 80 km per hour, but she most certainly did drive it." 

The People Eater's Mercedes Limousine
The perfect car for Gas Town's fat bureaucrat is a stretch Mercedes limo with lattice cut windows. So that's what he got: The thing oozes excess. The People Eater has mounted dozens of fancy car grills on his car that depict everyone he has consumed.
He travels amid "fire cars" and a supercharged V8 Volkswagen Beetle with a slick silver finish, triple exhaust pipes, a double-barreled flamethrower, and the ever-pounding drums of the Doof Wagon (below). They also come with thick bars for rolling, sturdy short bodies, and sand tires. Real men—not CGI actors—swung like crazy pirates on 20-foot-tall "metronome poles" balanced by weights underneath the cars. Even Miller didn't believe the raw footage at first, but "it's all real," Gibson insists, "with some enhanced work on the fire parts." 

Immortan Joe's Gigahorse
Joe's car is made of two 1959 Cadillac Devilles split, widened, and mounted with jacked-up fins along the side and rears. It's a car made for a despot, because well, he is one. (Actor Hugh Keays-Byrne also appeared in the first film). His beast has a custom gearbox, with two V16 engines and two-meter-high double-wide wheels. It has a whaler's harpoon and a flamethrower along the rear, too.  
Gibson says the tail of the 1959 Cadillac stood out to him as something exceptionally beautiful and worth salvaging.  "In a world where nobody had one of anything, it seemed a fait accompli that he would have a pair of 1959 coupe DeVilles," Gibson says. "We spent two months making them operational." 

Doof Warrior's Doof Wagon
This is possibly the most feverishly insane contraption of them all. Warner Brothers calls it a "sonic carmageddon," an apt description. This speaker-stacked, guitar-thrashed monstrosity was meant to rally the troops in the way drummers marched with soldiers in ancient battles. It has a supercharged V8 engine with a mobile stage, a wall of speakers and sub-woofers, and air conditioning ducts meant to drive home the beat of the accompanying Taiko drummers. The Doof Warrior swings from a bungee cord mounted to the front as he shreds metal while flames are thrown from a double-necked electric guitar. Somebody will definitely recreate it at Burning Man this year.
The Buzzard Tribe's Spiked Jalopies and the Buzzard Excavator
Again, no spoilers, but these tribes drive things that would crush, puncture, and tear, and tunnel underground. The Buzzard Excavator was built from a M.A.N. 6X6 tractor and has 1,757 steel spikes all over its body. Fun fact: That's the exact same number of quills found on the hide of an Australian anteater.

Nux's Chevrolet Coupe
The hot young War Boy (Nicholas Hoult) drives a hot car: a Chevy five-window coupe with a super-turbocharged, nitrous-boosted, steel coil, V8 engine. The whole thing has canted wheels and swooping exhaust pipes. It even has details of things Nux picked up in his short life, such as a doll-face steering wheel.
"Because he was a young man, he was screaming out for a young man's hot rod," Gibson says. "The '32 Deuce coupe is the perfect little hot rod to drive to Valhalla—everything we did to that car was to fetishize it."

Rictus Erectus's Bigfoot
The slow-brained son of the Warlord himself drives a 1940s-era Fargo workhorse of a truck with a harpoon, a belt-driven machine gun, and a supercharged V8 engine. The 66-inch, all-terrain tires and heavy axles are taken from a military supertanker. The thing has four feet of suspension and 600 cubic inches of displacement underneath. Perfect for a lumbering boychild.

The Bullet Farmer's Valiant Tank
The Bullet Farmer (just go with it) drives a 1970s-era Valiant Chassis welded to the body of a US Ripsaw Tank sardonically named "the Peacemaker." It has a machine gun, tank treads, and a torpedo slated over a water-cooled Merlin V8 engine. It also has mounted aviation parts, a sharp mouth of bullets, and a huge armory behind.

The Rock Riders' Yamaha Motorcycles
The rock riders skate the desert cliffs in adapted Gas Gas and Yamaha motorcycles made with supercharged weaponized caltrops. We also see specialized off-road buggies and fire cars, Mack trucks, and a car carrier. Even stunts such as jumping over cars on the bikes to toss hand grenades are real, not digitally created.
"George unfortunately has a huge imagination, but he became a doctor and he took this thing called the Hippocratic Oath, so he was very interested in not hurting anyone," Gibson says.

The Vuvalini's Touring Motorbikes
Mad Max's pack of leathery older mamas—the Vuvalini ladies—use motorbikes that are old touring bikes with leather seats. 
"We stripped them down and made forks of washing lines and jack hammers," Gibson says of the motorcycles. "There are also BMWs, Royal Einfelds in there. I had a whole team of people who scavenged things to add detail. The rules were to find something that was recognizable and then give you a double take."

War Boys' Claw Cars and the Ploughboy
The Claw Cars, whose sole purpose has become destruction instead of construction, are repurposed from International Utes and a vicious Ford F250 tow truck, with big rakes and anchors on the back and huge, front digger claws. The Ploughboy is an EH wagon jacked onto an off-road frame and then rigged with harpoons and hydraulic ploughs.

Various other cars in the War Boys crew that dot the edges of the film were rat rods and muscle cars from between 1940 to 1989. They were chosen because of their stiff chassis and stylish curves (despite poor aerodynamics)—and made to be destroyed. Mad Max: Fury Road is nothing, if not one hell of a demolition derby by the time credits roll.
"We had dozens of professional drivers make these cars work—they made the cars sing," Gibson says. "But of course, you do lose some along the way. It's the nature of war."
Hannah Elliott is Bloomberg's car expert—and would love to get her hands on one of those Yamaha dirt bikes. Check her out on Instagram at @hannahelliottxo or talk with her on Twitter at @HannahElliott. 
Correction: A previous version of this article described Nux's car as a five-door coupe. It actually has five windows—and two doors, as is the traditional definition of a coupe. 
Before it's here, it's on the Bloomberg Terminal.
LEARN MORE