Europe's Fast Fashion King Clips Carlos Slim to Become World's Third-Richest Person
Amancio Ortega's fortune surges as Inditex sales hit two-year high
By and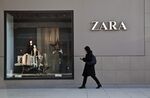 Amancio Ortega, Europe's richest man, became the third-richest person in the world yesterday, passing Mexico's Carlos Slim for the second time this year. The founder of Inditex SA, the world's largest fashion retailer, has increased his fortune to $68 billion. It's up 79 percent since March 2012, when the Bloomberg Billionaires Index debuted. Inditex operates more than 6,600 stores under brands that include Zara, Massimo Dutti and Pull&Bear. 

Sales at the Spanish company have increased 31 percent since 2012 to $24 billion in the year ended January 2015. Since Inditex's 2001 initial public offering, Ortega has received more than $3 billion in dividends and has invested the proceeds in commercial properties in major cities across Europe and the U.S. 
The billionaire's performance has eclipsed that of the three other richest people on the planet: Slim, and U.S. billionaires Bill Gates and Warren Buffett. Slim's fortune has declined 1 percent, to $67.3 billion, since the index debuted while Gates has increased 38 percent and Buffett 62 percent. Ortega has added $7 billion to his fortune since Jan. 1, while Buffett, Gates and Slim have lost a combined $8 billion.
The four billionaires have personal fortunes totaling $293 billion, about the same size as Israel's gross domestic product, according to data compiled by Bloomberg. 
Research for the post is derived from Bloomberg Billionaires Index data. Get the latest intelligence about the world's biggest fortunes on Twitter @bbgbillionaires.