$100 Oil Long Gone Puts Norway Closer to Plundering Wealth Fund
Saleha Mohsin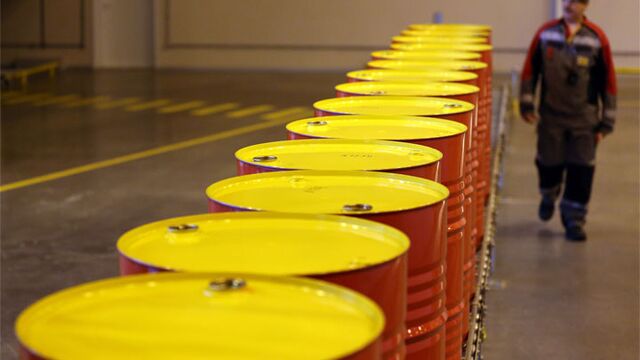 With oil nowhere near levels that once made everything easy in Norway, the government may soon face the tough choice of tapping its $900 billion sovereign wealth fund or paring back spending from its shrinking petroleum income.
That's the unwelcome mathematical truth of falling oil production and crude prices and a growing need to fill budget gaps. It comes as the custodians of the fund, set up to safeguard the wealth of future generations, warn that it also faces diminished returns ahead amid record-low interest rates.
Spending could start to outstrip income "in a short time," at which point "there will be some net transfer from the fund to the fiscal budget," central bank Governor Oeystein Olsen, who oversees the fund, said in a May 8 interview.
Norway's minority government on Tuesday proposed spending a record 180.9 billion kroner ($24.2 billion) of its oil cash this year. Offshore income is used to plug budget shortfalls and the rest is put into the wealth fund to invest overseas. The fund has grown from about $50 billion at the start of the last decade to become the world's biggest investor of its kind.
With crude output declining and oil prices low, the government now sees petroleum income falling to 251.6 billion kroner this year, almost 30 percent lower than projected in October.
On and off the record, Norwegian officials are adamant there will be no withdrawals from the fund since only returns generated from its investments will be spent. The government predicts the fund will grow to 8.9 trillion kroner by 2020.
Rich Norwegians
The government has no "contingency plans" for potentially making the first withdrawals, said Eva-Karin Dahle Rabben, a spokeswoman at the Finance Ministry. Spokespeople at the wealth fund referred questions to the ministry.
While the government is staying well within a spending rule that limits oil revenue spending to 4 percent of the fund, that rule has lost its meaning as the fund has soared in size.

With an economy stoked by oil wealth, Scandinavia's richest nation has seen unemployment remain at about 4 percent, even as large swathes of Europe were experiencing double-digit joblessness. Norway has some of the developed world's highest salaries and most generous welfare benefits.
Oil revenue is received in two ways, via income in kroner from taxes on production and dividends from Statoil ASA and in foreign currency from its direct stake in offshore production.
Plunging Flows
As a first sign of the immense budget shifts awaiting the nation, the central bank was last year forced to start buying kroner with its foreign currency as the krone income was insufficient to cover budget needs. Since March it has been buying 700 million kroner a day.
Capital inflows to the fund will plunge by about 73 percent this year, the government forecasts. That would be the lowest inflow since at least 2000.
"This is a big concern," said Marianne Marthinsen, a lawmaker for Labor, Norway's largest party in opposition. Reversing money from the fund could happen as soon as next year, she said. "The first target we should have is to decrease the amount of oil money that's spent."
Olsen has called to lower use of the fund to 3 percent, and the Liberals and Christian Democrats, government support parties, have also said Norway needs tighter policy.
Finance Minister Siv Jensen in October appointed a committee to study how the rule works. She declined to comment on the possibility of spending outstripping oil revenue until that review is complete.
"The fund is growing at a high speed, there are some risk factors to it, fluctuations of currencies is one," she said on Tuesday in an interview. "That's why we have this committee, to give us some advice on how to manage this."