Treasury Demand No Longer Insatiable Going Into Refunding
Daniel Kruger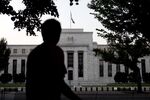 The Treasury Department is finding that demand for U.S. government debt is no longer insatiable.
Bond prices are tumbling as the three-week selloff in global sovereign debt markets accelerates, pushing yields on 30-year U.S. bonds on Monday to the highest since November. That's probably not a good omen as the Treasury prepares to sell $64 billion in notes and bonds the next three days.
Demand for the U.S. government securities sold at auction has declined in each of the past three months, after also slumping in the August-through-October 2014 period, data compiled by Bloomberg show. That's a far cry from the surging investor interest that pushed demand to a record in 2012.
While the risk of higher yields is weighing on demand, the Treasury is also competing with more than $20 billion of debt slated to be sold by companies including Qualcomm Inc., Capital One Financial Corp. and Seagate Technology.
"Given the context of higher corporate supply and the long-end of the curve struggling for the past two weeks, it could pose some challenges," said Shyam Rajan, an interest-rate strategist at Bank of America Merrill Lynch in New York, one of the 22 primary dealers that are obligated to bid at Treasury auctions.
Yields on 30-year bonds have risen 0.81 percentage point since Jan. 30, when it touched a record low of 2.22 percent. The yield climbed 13 basis points to 3.3 percent Monday.
Auction Demand
Demand at last month's Treasury auctions, excluding floating rate notes, was the lowest since August 2013 and the second smallest since 2009 at 2.70 times the $166 billion of securities.
The bid-to-cover ratio, which measures demand for the securities at auction versus the amount sold, totaled 2.81 times the $163 billion offered in January. For all of 2015, the ratio was 2.75. That's down from 2.87 last year and in 2013, and the record 3.15 in 2012. It was 2.50 in 2009, according to Treasury data compiled by Bloomberg.
The Treasury will sell $24 billion of three-year notes Tuesday, the same amount of 10-year debt Wednesday and $16 billion of 30-year bonds Thursday in what traders used to refer to as the quarterly refunding.