Oil Retreats on Speculation Global Crude Supply Glut to Endure
Mark Shenk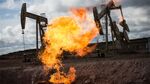 Oil dropped a third day in London amid speculation that a global oversupply will persist.
An excess of oil around the Atlantic may curb rallies, according to Morgan Stanley and Barclays Plc. Unsold exports from West Africa, Azerbaijan and the North Sea are piling up, resembling conditions last summer when oil began a 60 percent plunge, the banks said. Futures also fell as the dollar rose against the euro, reducing the appeal of commodities priced in the U.S. currency.
Oil rebounded through last week from a six-year low in March amid speculation record U.S. output from shale will slow. The rally may still falter as the nation's crude inventories are more than 100 million barrels above the five-year average for this time of year, government data show.
"There's extra oil in the Atlantic basin," Tom Finlon, Jupiter, Florida-based director of Energy Analytics Group LLC, said by phone. "There are North Sea cargoes floating around and a large number from Nigeria. We're also seeing some oil get out of Libya even with the chaos in the country."
Brent for June settlement declined 48 cents, or 0.7 percent, to close at $64.91 a barrel on the London-based ICE Futures Europe exchange. Total volume was 10 percent below the 100-day average at 2:48 p.m.
West Texas Intermediate for June delivery dropped 14 cents to settle at $59.25 a barrel on the New York Mercantile Exchange. Volume was down 20 percent from the 100-day average. The U.S. benchmark crude closed at a $5.66 discount to Brent.
Remained Unsold
About 80 million barrels of Nigerian and Angolan crude remained unsold in the first week of May, Barclays estimated. That's equivalent to about three weeks of combined production from those countries, according to data compiled by Bloomberg.
"Key physical crude oil market indicators in the Atlantic Basin are showing signs of weakness at present, highlighting the disconnect between the futures and physical markets," Miswin Mahesh, an analyst at Barclays in London, said in a report.
There's at least 2 million barrels a day of excess supply, Abdullah bin Hamad al-Attiyah, Qatar's former minister of energy and industry, told reporters in Kuwait Monday. The Organization of Petroleum Exporting Countries should maintain its production target when the group's ministers meet on June 5 in Vienna unless non-OPEC producers agree to collective action, he said.
Prices tumbled the first quarter of this year as U.S. output surged to the highest level in more than four decades and OPEC members pumped more barrels.
The Bloomberg Dollar Spot Index, which tracks the U.S. currency against 10 major counterparts, rose 0.4 percent. The index is up 16 percent from this time last year.
U.S. Stockpiles
WTI dropped less than Brent because of the U.S. supply and demand outlook. U.S. crude inventories dropped for the first time in four months in the week ended May 1, according to Energy Information Administration data.
"WTI is resisting the downward tug of Brent somewhat," Tim Evans, an energy analyst at Citi Futures Perspective in New York, said by phone. "This implies that the U.S. crude market is tighter than that for the European benchmark."
The U.S. oil rig count fell by 11 to 668 last week, extending a slide that started in December, according to Baker Hughes Inc. Oil drillers cut the number of active machines for a 22nd week. The rotary-rig count has fallen 58 percent since Dec. 5, according to the oil-services company.
Gasoline futures for June delivery decreased 0.54 cent, or 0.3 percent, to close at $1.9864 a gallon. June ultra low sulfur diesel fell 0.83 cent, or 0.4 percent, to close at $1.9454.
The average price for gasoline at the pump advanced 0.1 cent to $2.659 a gallon Sunday, according to the Heathrow, Florida-based AAA, the nation's biggest motoring group.