Iran Porsche Crash Sparks Police Crackdown on Tehran Joy Riders
Golnar Motevalli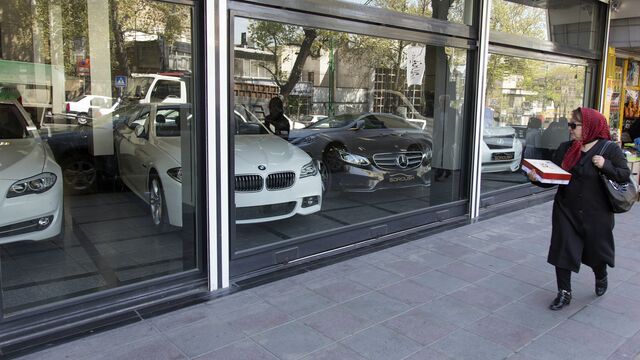 Iran's traffic police have deployed teams in Tehran's wealthy northern neighborhoods targeting drivers of luxury cars after a high-profile crash involving a Porsche sparked a social media backlash against the city's elites.
Police impounded 47 luxury cars for "causing problems and danger," in a span of seven hours on the night of May 7, the Iranian Students' News Agency reported, citing Hassan Abedi, the deputy head of Tehran's traffic and highways police. Drivers and passengers are also breathalized for alcohol, whose consumption is illegal in the Islamic Republic.
Last month's crash prompted Supreme Leader Ayatollah Ali Khamenei to urge police to combat what he called the "psychological insecurity" of those driving luxury cars. Along with the female driver of the yellow Porsche, the accident killed a male passenger -- a 21-year-old son of a prominent cleric, according to the Khabar Online news website.
The public outcry that followed the accident exposed growing dissatisfaction among Iran's middle-class citizens, who have borne the brunt of crippling sanctions over the country's nuclear program. It also raised questions on how to deal with a young generation far removed from the ideals that underlined the 1979 Islamic Revolution, which emphasized social equity and the rejection of consumerism.
"Our society is confronted with the phenomenon of the 'rich kids'," Ruhollah Shahabi a professor of psychology at Tehran University, wrote in the reformist Shargh daily May 5.
Flaunting Their Wealth
Shortly after news of the crash emerged, hostile comments appeared on the dead driver's Instagram account, many of them directed at the rich for flaunting their wealth while the rest of Iranians suffer.
Some Iranian analysts and media outlets trace the widening class divide to the era of former President Mahmoud Ahmadinejad, accusing him of turning a blind eye to the plight of the middle class. In 2012, Ahmadinejad fired Health Minister Marzieh Vahid Dasjerdi who accused him of giving luxury car imports priority over the import of foreign medicines.
Imports of Porsche vehicles surged during Ahmadinejad's second term to 569 in 2011, compared with 232 in 2009, the year he was re-elected, according to the semi-official Khorrasan newspaper. The number dropped to just 18 cars in 2014, it said.
Abedi, the police official, said more than 100 teams will be on patrol until 1 a.m. with 70 more taking over until the morning, monitoring irresponsible driving. Cars are impounded for three days and drivers are fined 2 million rials (about $70) and given five points on their license, Iran's Shargh newspaper reported.
Brigadier Parviz Hosseini, head of Tehran's Highways and Traffic police told state-run television that the campaign will continue for the next six months to "prevent speeding, childish antics in order to draw attention to one another's luxury cars and abnormal, high-risk driving."
Before it's here, it's on the Bloomberg Terminal.
LEARN MORE