George Zimmerman Involved in Shooting Incident in Florida
The man acquitted of murder over the death of Trayvon Martin has another brush with the law
By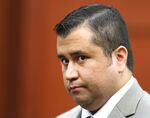 George Zimmerman—the man acquitted by a Florida jury in the 2012 death of Trayvon Martin in Sanford, Fla.—was involved in a shooting incident on Monday, according to police and Zimmerman's attorney.
Zimmerman and another man were engaged in an "ongoing dispute," a witness told Orlando TV news station WESH, which escalated into gunfire.
Don West, Zimmerman's attorney, told the Associated Press that his client's "injuries would be considered minor. The bullet missed his head. I think it broke a window and lodged in his vehicle." West said Zimmerman was released from the hospital and is cooperating with authorities.
Witness Ricardo Berrare told WESH that Zimmerman was walking normally and wasn't helped into the ambulance when it arrived.
Zimmerman fatally shot unarmed black teenager Trayvon Martin after an altercation in February 2012 while Zimmerman was a neighborhood watch coordinator in the community where Martin lived.
Zimmerman was acquitted of second-degree murder in July 2013, but the verdict sparked protests across the U.S.