Fiskars Adds Wedgwood Porcelain With $437 Million WWRD Buy
Kati Pohjanpalo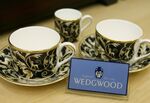 Fiskars Oyj is expanding its selection of tabletop brands with the acquisition of WWRD and its luxury-home goods labels.
The $437 million deal, on a cash and debt free basis, with private equity firm KPS Capital Partners brings the Helsinki-based company brands including Waterford, Wedgwood, Royal Doulton, Royal Albert and Rogaska. Its shares rose as much as 6.6 percent, the most in more than six months.
"We will create a strong presence for the Fiskars Living business in the U.S., and further enhance Fiskars' market position in Europe and Asia-Pacific," Kari Kauniskangas, chief executive officer, said. "Fiskars will now have a balanced portfolio of businesses."
Fiskars, which traces its roots from iron works founded in 1649 at its namesake town in southwestern Finland, has transformed itself from a holding company and now actively manages brands. Those include Iittala, acquired in 2007, and Royal Copenhagen, which it bought in 2013, as well as Bear Grylls-branded Gerber survival gear.
Fiskars generates about 70 percent of its sales in Europe and 30 percent in the U.S., while WWRD's sales are estimated at 44 percent in the Americas, 35 percent in Asia-Pacific and 21 percent in Europe.
Fiskars shares rose 5.7 percent to 18.88 euros at 10:19 a.m. in Helsinki. Before today, the stock had declined 0.7 percent in 2015.