Citigroup Says U.S. Declines to Prosecute on Libor Rigging
Dakin Campbell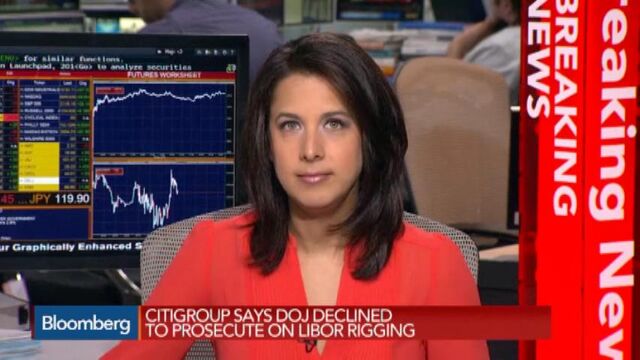 Citigroup Inc. said the Justice Department declined to prosecute the bank after a probe into rigging of the London Interbank Offered Rate. Other U.S. and international authorities are still investigating.
The Justice Department advised the third-biggest U.S. bank by assets that it made the decision "based on the facts and circumstances as the Department of Justice currently understands them," New York-based Citigroup said Monday in a regulatory filing. It "decided to decline prosecution with respect to Libor," Citigroup said.
Libor benchmarks have been at the center of a scandal since 2008, with investigators in Europe, the U.S. and Asia probing allegations that traders at the world's biggest banks manipulated the rates and similar indexes to benefit some investment positions. In 2013, Citigroup agreed to pay 70 million euros ($78 million) as one of six banks to settle with the European Union over allegations they rigged interest rates tied to Libor.
In February, Citigroup said in its annual securities filing that it faced inquiries from the U.S. Commodity Futures Trading Commission, a group of state attorneys general and international agencies including the Swiss Competition Commission, which had requested information and documents. It didn't give an update on those probes in Monday's filing.
Ensnaring Banks
"The criminal case, which has ensnared other banks, has passed by Citigroup," Peter Henning, a law professor at Wayne State University in Detroit, said in an e-mail. "So while not a complete free pass, it takes away what many perceive to be the greatest threat, which is from the Department of Justice."
Peter Carr, a Justice Department spokesman, declined to comment, as did Mark Costiglio, a bank spokesman. Steve Adamske, a spokesman for the CFTC, didn't immediately respond to a request for comment and a media representative for the Swiss agency couldn't be reached after business hours in Bern.
Deutsche Bank AG was ordered last month to pay a record $2.5 billion fine and fire seven employees to settle U.K. and U.S. investigations, including the CFTC's, into the case, which New York's Department of Financial Services said involved a "widespread effort to manipulate benchmark interest rates for financial gain."
Deutsche Bank traders coordinated their Libor submissions with dealers at other firms, including at Citigroup, Barclays Plc, BNP Paribas SA, Merrill Lynch & Co., Societe Generale SA and UBS AG, according to the settlement documents.
UBS Payment
For more, read this QuickTake: Broken Benchmarks
The Deutsche Bank agreement brought the total global fines for the scandal to about $9 billion, paid by a dozen firms. UBS paid $1.5 billion in 2012, the biggest prior to Deutsche Bank.
Citigroup expected to pay a fine to settle various Libor investigations as recently as the fourth quarter, when the bank set aside $2.85 billion for legal settlements, citing Libor as well as probes into money-laundering controls and rigging currency benchmarks.
A resolution of the Justice Department probe into foreign-exchange markets may lead the company to plead guilty on an antitrust charge, according to Monday's filing. The bank is in active discussions with the government to resolve the foreign-exchange probe, it said. In November, Citigroup agreed to pay $1.02 billion to resolve currency-trading probes with three regulators in the U.S. and U.K., the most of any bank.
Citigroup also said Monday that it was fined an additional $90,000 by Mexico's banking regulator as part of a review of the firm's compliance with a corrective action order imposed after a $400 million loan fraud was discovered last year. The bank, which was fined 30 million pesos ($2 million) in October over the matter, said it's cooperating fully with the regulator.