Analysts are Initiating Coverage on Etsy, and They're Not Very Bullish
Buy, hold, or sell this handmade hub?
By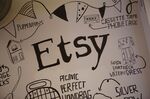 Etsy has been a public company for about a month, and several analysts are initiating coverage on the Brooklyn-based firm famous for creating an online marketplace that connects sellers of mostly handmade and vintage goods with consumers around the world.
Goldman Sachs and Morgan Stanley both gave the firm a "neutral" rating with price targets of $20. Their reasoning was simply that a lot of the success is already priced in. 
Here's what Goldman analyst Heath Terry said.
Etsy has seen early success in developing an online marketplace across a fragmented base of sellers expanding their market beyond crafts fairs and bazaars by enabling discovery, purchase, and fulfillment. While we view Etsy as a leader in a potentially large addressable market segment, with the stock trading at 8X 2016E EV/Sales, we believe a high degree of success is already priced in. 
Morgan Stanley analyst Brian Nowak said much the same.
We initiate at EW with a $20 PT. We see runway for 25% gross merchandise sales growth, believe LT gross margins settle in the low 60s (vs expectations for low 50s) and our buyer acquisition math supports Etsy's ad spending. But current valuation levels price this in, leading us to EW.
Wedbush's Gil Luria, on the other hand, released a report downgrading the company, as they fear there's a risk of counterfeit items being sold on the website. (Morgan Stanley and Goldman Sachs did not mention "counterfeit" in their reports.) According to Wedbush's research, counterfeit items could be more widespread than first realized.
Our research indicates as many as 2 million items on Etsy (>5% of all merchandise) may potentially be either counterfeit or constitute trademark or copyright infringement. ... Counterfeit candidates include items infringing on Louis Vuitton, Chanel and Michael Kors, as well as a wide range of Disney and NFL brands. Sample of high risk listings indicates some violations may be 20x more likely on Etsy than eBay and even more likely than Alibaba's Aliexpress. We believe Etsy is unlikely to be directly liable for the infringements based on the Tiffany v eBay precedent and protection under the Digital Millennium Copyright Act. ... Brands increasingly pursuing sellers on Etsy could materially reduce listing fees and commissions. ... We would point out that eBay has had to go as far as eliminating some brands from its website even without brand prompts. If Etsy chooses to continue to ignore these potential violations, we believe it could tarnish its brand with both buyers and sellers. 
Here are some examples from the Wedbush report.
High-end brand items such as Chanel.

Items from the extremely popular Star Wars series. 

And items from one of Disney's most popular films, Frozen. 

Wedbush put a $14 price target on Etsy. The average 12-month outlook, according to Bloomberg, is $18.25.