'Dry Powder' Runs Dry as Stocks Try to Break New Records
Is anyone left to light the fuse?
By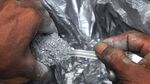 Regardless of your opinion of technical analysis, it's hard not to be mesmerized watching the level of the U.S. stock market over the last two sessions.
You can play along at home, or office desk, or sailboat, or jail cell, or wherever it is you watch the market. Keep your eye on the number 2,117.69 for the Standard & Poor's 500 Index. That's its last closing record from April 24.
On Friday, when the market was making a moon shot after the jobs report was deemed to be of the right temperature, the intraday ascent stalled just three-hundredths of a point shy of that closing record. Today, the benchmark index touched 2,117.69 for exactly two ticks before retreating below it, according to data compiled by Bloomberg.
And that April 24 record really wasn't much to write home about. It was only three-tenths of a point higher than the March 2 record that the S&P 500 took such a long time in reclaiming.
So what gives?
One interesting theory on why the market remains stuck in this trading range may be the dearth of what the cool kids call "dry powder," or cash sitting outside the stock market that could be plowed into equities.

Bruce Bittles and William Delwiche, strategists at Robert W. Baird, pointed out in a note today that mutual fund managers have the lowest cash levels in history and money market fund levels are lower now than in 2007 and near a record low from 2000 relative to the capitalization of the stock market.
"This suggests the public and institutional investors are heavily allocated toward stocks," they write. "As a result, the principal support or demand is from aggressive corporate buybacks and from foreign central banks, including Japan and Switzerland that are large buyers of equities both domestic and foreign."
Bulls, now you know where to deliver those fruit baskets.