'American Idol' to End After 15 Seasons as Fox Pulls Plug
Lucas Shaw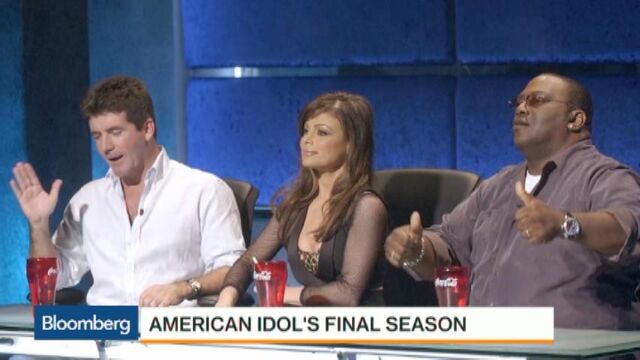 "American Idol," the popular singing show that started the career of music stars and ushered in a slew of copycats, will end its run on Fox after its 15th season concludes in 2016.
The network said Monday this upcoming season would be Idol's last, pulling the plug on a show that turned contestants, judges and its host, Ryan Seacrest, into global celebrities.
The show has been an anchor on Fox's schedule since its debut in 2002, drawing more than 30 million viewers in some seasons and more than 20 million for much of its existence. Though the audience has dwindled in recent years, the show remains one of Fox's most-watched programs, and its end signals a programming reboot by Fox's new leaders, Dana Walden and Gary Newman.
"It was not an easy decision," Newman, co-chairman of Fox Television, said on a call with reporters. "'American Idol' has been such a vital part of Fox throughout its run. We spent a lot of time talking with the producers about the future of 'American Idol,' and collectively we all arrived at the conclusion that it was time to bring the show to an end."
To enliven a network whose ratings dropped more than 20 percent this past season, Walden and Newman are banking on Fox's new music show, the hip-hop drama "Empire," to be a linchpin of the network's success, alongside the return of "The X-Files" and a series by Ryan Murphy, the creator of "Glee." Murphy's "Scream Queens," a horror anthology show that will debut on Fox in the upcoming season.
The last season of "Idol" will feature host Seacrest with judges Jennifer Lopez, Keith Urban and Harry Connick Jr. Newman and Walden promised a celebratory final season full of surprises, including potential visits from past judges, like Simon Cowell and Paula Abdul, or winners such as Kelly Clarkson and Carrie Underwood.
Though "Idol" has surrendered its throne to NBC's "The Voice," a show where the hosts are the biggest celebrities, Newman and Walden left the door open to future singing competition shows. Even with a complete overhaul of the judges-table and a steady decline in the ratings, "Idol" began its most recent season with more than 11 million viewers.
Fox announced the show's ending ahead of its Upfront advertising presentation in New York. The four big broadcasters -- also including ABC, NBC and CBS -- will raise $8.61 billion in Upfront ad commitments, a 3.1 percent rise, according to estimates from Nomura Securities International Inc.